Design solutions for EV Battery facilities which can be adapted to specific requirements.
In line with the rapid increase in the use of electric vehicles worldwide, the global lithium-ion battery market is expected to reach of value of $95bn by 2025. Key to this target being achieved will be the availability of suitable battery manufacturing facilities. Given the reactive nature of lithium, specialised closely controlled room environments are critical to the manufacturing process for high-quality lithium-ion batteries. This requires the application of clean room and humidity control technologies and expertise combined to deliver dry room facilities. Ardmac have developed a number of design solutions for dry room facilities which can be adapted to suit your project's specific requirements in relation to room performance. With over 40 years of experience in the successful delivery of close controlled environments for the advanced technology sector, Ardmac and our specialist partners are ideally positioned to deliver your next lithium-ion battery manufacturing facility.
Dry Rooms The Ardmac Way
Dry rooms are hermetically sealed rooms that can maintain very low humidity levels while also guaranteeing low particulate concentrations making them an idea environment for lithium-ion battery production. Specific requirements for such facilities can vary but would typically be ISO Class 6 – 8 cleanroom, with Relative Humidity level of <1% and a Dew Point of -35° to -40° Celsius. Regardless of whether it is a small-scale R&D facility or a large scale giga-plant the same design principles will be applied.
Design Solutions
The design solutions specifically required to achieve dry room conditions are made up of 2 critical elements including the architectural envelope and the HVAC system. The architectural envelope is responsible for meeting the requirements in relation to the provision of a hermetically sealing room and the HVAC system is responsible for ensuring that the required temperature, humidity levels and particulate concentrations are maintained. While the design principles for dry rooms remain consistent the project specific design solutions can vary depending on a number of key design variables which include the following: • Room occupancy levels • Required temperature and relatively humidity levels & control bandwidths • Physical room dimensions • Sensible internal heat loads • Room exhaust rates.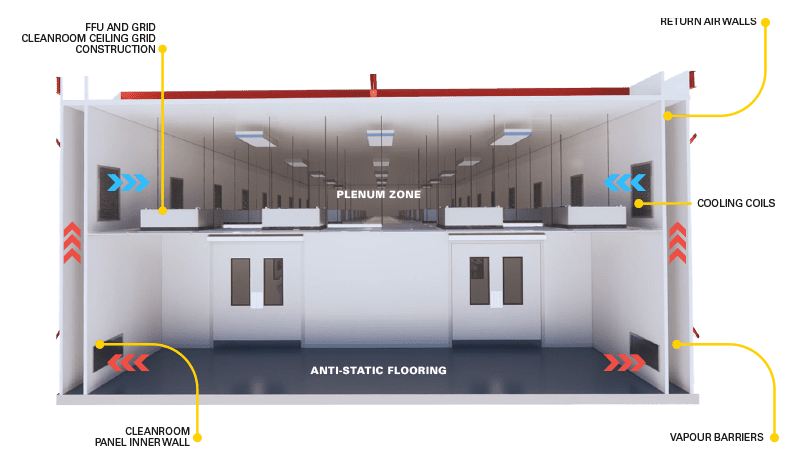 Leveraging our vast knowledge and experience in the cleanroom sector Ardmac have developed architectural and HVAC solutions which have been adapted to meet the requirements of dry room facilities.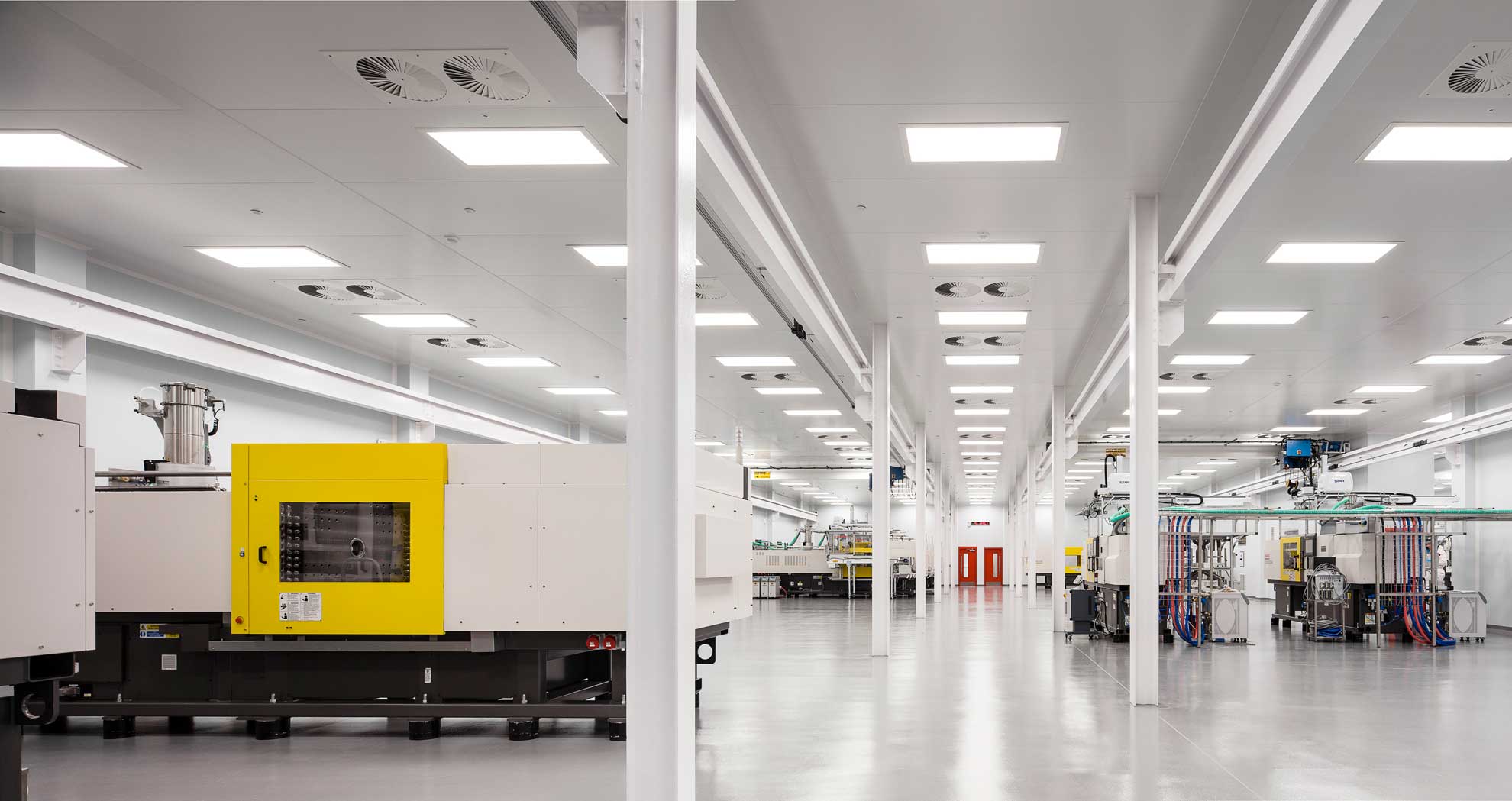 As part of our standard approach to the design development we engage with the Client team at the start of the project as part of a BOD (Basis of Design) process to clearly define the project performance specification including the key design variables. Following our stage gate process, the design solution is developed in line with this performance specification. As part of this process the Client team is brought along at all stages of the journey to ensure they are satisfied that the final solution is in line with their requirements. The dehumidification technology adopted as part of the HVAC design solution is critical to the performance of the facility and so selecting the correct equipment and equipment provider is crucial. Whilst Ardmac remain vendor agnostic, we have existing relationships with a number of the leading providers of humidity control technology to the lithium battery manufacturing sector.

The Ardmac program that takes initial design information through to detail.
With over 40 years' experience in the design of large scale cleanroom construction, our highly skilled in house Architectural and M&E team have vast experience in delivering complex projects in a collaborative manner through the use of BIM and using the latest technologies and Autodesk software for cloud based project co-ordination. Taking a project from concept design right through to detailed design and construction is our standard offering carrying out design risk assessments, considering buildability, and proposing value engineered solutions throughout the process giving the client confidence and the experience of comfort.
Early engagement at concept design stage is becoming more and more common due to the benefits that are apparent to successful project delivery. Early collaboration with our experienced team reduces redesign or changes at the detailed design phase and maximises the use of resources on the project capturing any constructability issues as early as possible. Our design assist team pride themselves in their communication skills and the importance of producing detailed status reports clearly identifying progress (planned vs actual) throughout all stages of the process. We use lean technologies such as last planner to plan, identify and remove obstacles well in advance of their impact with the common goal for a smooth project delivery. Our integrated digital processes and DFMA (design for manufacturing & assembly) ensures information is collated centrally and immediately available to our supply chain partners where components are manufactured with the highest precision and quality and released to the construction site in a phased JIT sequence.
At this stage the design is modularised within a BIM model using Revit.
A robust process ensures the coordination and integration of mechanical, electrical and process services with the architectural cleanroom elements.
Characteristics & outputs include;
• Embedded mobile design teams within engineering design organisation's offices.
• Develop the model from LOD 250 to LOD 500.
• Technical submissions for all elements of the cleanroom build.
• Coordinated clash free Revit model.
• Resources trained in LEAN techniques.
• Defined structured procedures and an open communication platform.
• Use of Audio Visual & Augment Reality to assist in design reviews.
• Model generated Bill of Quantities.
• Ability to link model to construction programme.
• Embedded information to integrate with supply chain vendors.
Modular, pre-engineered Cleanroom systems with flexibility designed in to provide the most Agile cleanrooms for today's fast evolving battery manufacturing challenges.
Our range of architectural solutions when combined provide the most advanced and aesthetically pleasing compliant dry cleanrooms. Walls, ceilings, doors and floors integrate seamlessly with detailing to provide an airtight vapour sealed performance envelope. We leverage industry leaders as partners to provide integrated air delivery systems, return air solutions and lighting that seamlessly fit into our cleanroom offering.
Today's requirement for standardisation, rapid deployment and reduced schedules are all drivers for the modern battery manufacturing dry cleanroom facility. The continued deployment of battery manufacturing technology coupled with the need for ever decreasing RH environments of <1% or -35oC to -40oC due point continue to challenge the use and selection of materials and construction methods. Ardmac's Cleanshield range of products provide industry leading levels of flexibility for your facility needs.
Walk on ceilings enabling maximum services distribution together with integrated lighting and air delivery components and cleanroom walls, doors, glazing all combine with the ceiling to provide a vapour barrier that achieves the constraints of these ultra-low RH dry environments for the production of quality electrodes. It is through the smart use of the Ardmac Cleanshield suite of architectural systems that we are able to design, construct and commission these dry cleanrooms that are truly future proofed.
CleanShield Envelope protects your products and process. Creating a safe and low RH environment that will exceed industry requirements.
Characteristics & outputs include;
• Walkable ceiling systems
• Lighting
• Modular wiring
• Cleanroom wall panels
• Bi-panel partitions
• Glass walls
• Flush doors
• Sliding doors
• Flush windows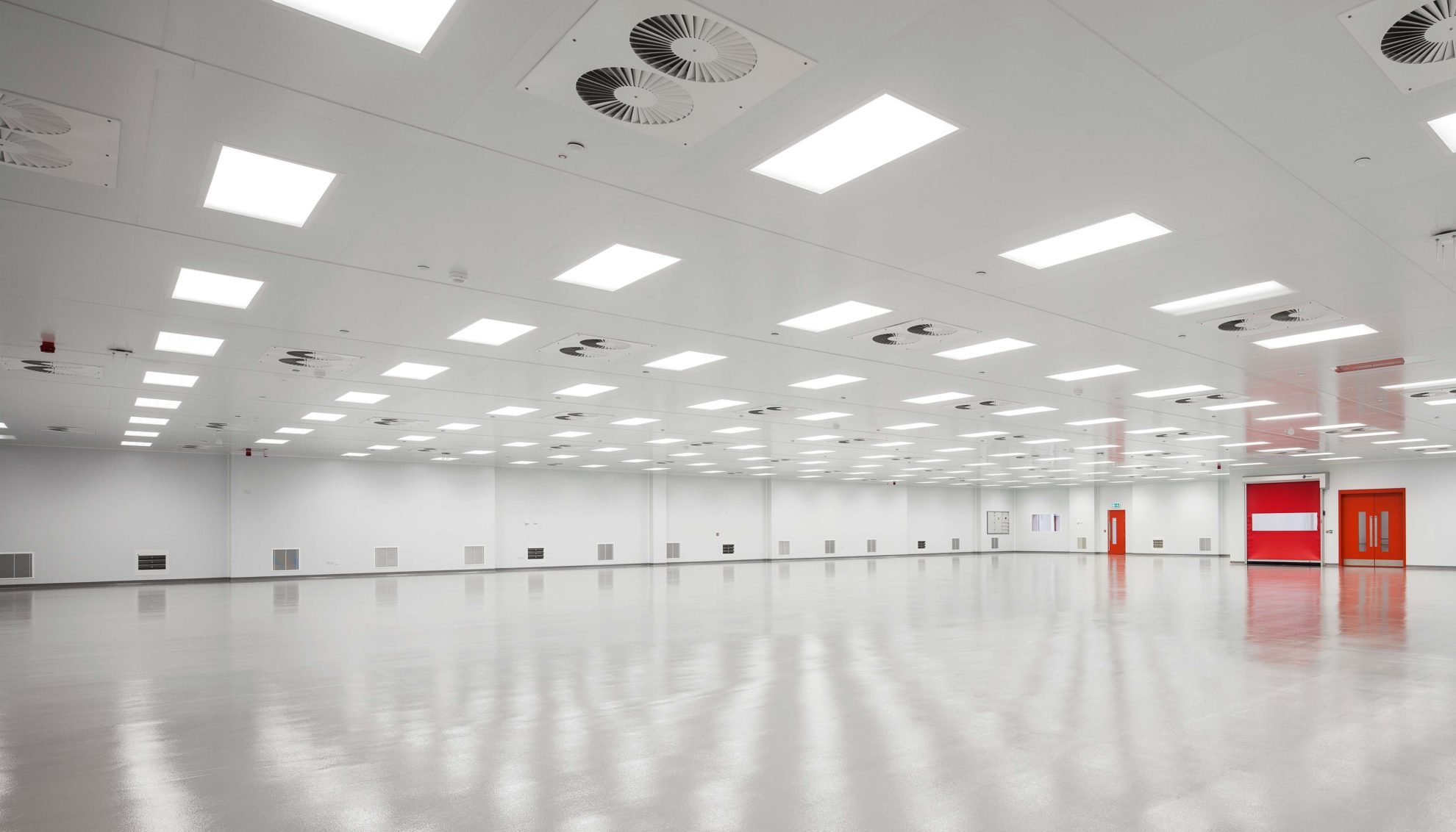 BIM
Ardmac is BIM Level 2 prepared and certified by BRE against ISO 19650 standards and BRE global BIM scheme requirements. This certificate is designed to be used with contract forms, supplier's pre-qualification questionnaires (PQQs) and to demonstrate Information Management (e.g. BIM Maturity) understanding and capability to clients and contractors. It allows Ardmac to continuously exceed the appropriate standards and helps to provide the highest level of service to our clients.
Construction On site
We are constantly upgrading our site infrastructure and making our site teams BIM literate with inhouse and external trainings. We believe that the site team should have easy and open access to the BIM Models and data to be a part of whole construction process from start to end.
We deploy a variety of platforms depending on the use case, for example model viewers on iPad or on site BIM stations. We also conduct site team workshop for software such as Navisworks and BIM 360.
3D Modelling
Ardmac understands the significance of creating and maintaining a digital twin of our construction projects to ensure better construction and maintenance. To ensure this we deploy best industry standard software. 3D modelling in BIM allows us to work collaboratively with different contractors within the cloud, allowing everyone to check for clashes and discrepancies between different services This practice allows clients to see and evaluate a digital twin of their project even before construction starts and, hence allowing more flexibility.
Laser scanning, set-out & construction verification

We at Ardmac understand the precision required in modern construction projects. To achieve this precision and to course correct we are constantly innovating our construction processes. We have tested using Laser Set-out scanners on our projects to have exact set-out locations for our scope of work. We are also using Laser scanners to verify our installation and generate a real time report for the client to compare between design and as built elements.
These techniques allow us to produce a clash free package saving time and re-work for everyone.
4D Construction
Ardmac have deployed 4D workflow on some projects to provide client with a more realistic modelling information in synchronization with time. 4D construction allows Ardmac construction team and everyone involve in the project to have a clearer understanding of the construction sequence including staging. When used collaboratively it helps everyone involved in the project to identify error in the construction plan and optimize the construction sequence.