Ardmac to deliver Compound Semiconductor Research Cleanroom for Cardiff Innovation Campus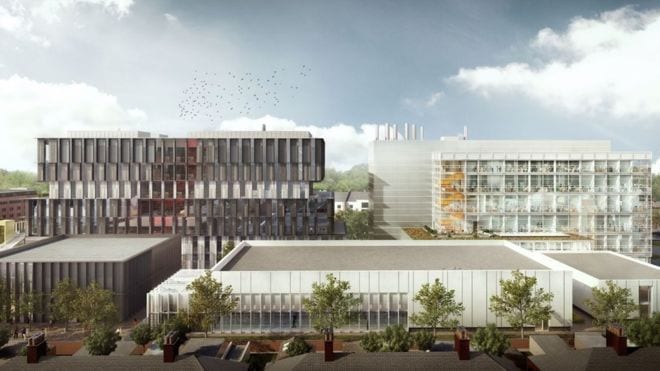 Cardiff University and Bouygues-UK have selected Ardmac to design and construct the 1600m2 ISO 5-6 Microelectronics cleanroom.
Ardmac won the contract on the back of its extensive experience and track record in designing, engineering and constructing complex microelectronic facilities for over 30 years.  Ardmac's in-house design team worked closely with FAB designers AED during RIBA Stage 3 to Stage 4 closely coordinating with all the stakeholders and continued through to Stage 5 producing an IFC 3D model to LOD 400.
The new cleanroom for The Institute for Compound Semiconductors (ICS) is part of Cardiff University's new £300 million Innovation Campus, set to combine cutting-edge research, technology transfer, business development and student enterprise.  The Institute has received over £80 million investment for its new building and equipment including over £30 million of external investment.  In addition to the 1600m2 cleanroom, dedicated characterisation room and back end processing areas will enable the manufacture of process wafers up to 8-inches in diameter and expand the range of industry-standard services offered by ICS.
The purpose-built cleanroom facility will include an innovative fabrication line with state-of-the-art equipment, cutting-edge facilities and highly skilled people, the Institute for Compound Semiconductors (ICS) aims to position Cardiff as the UK and European leader in Compound Semiconductor Technologies.
Compound Semiconductors explained:
Advances in wafer technology, coupled with the increasing demand for faster processing capabilities and minuscule electronics, has pushed semiconductor and chip manufacturers to research and develop new products.  From smartphones and tablets to satellite communications and GPS, compound semiconductors drive the devices and technologies we use today.  ICS enables researchers and industry to work together to meet consumer demand by progressing academic research to a point where it can be introduced reliably and quickly into the production environment.
ICS will also target direct industrial collaboration for product development to prototyping, including advanced device fabrication, measurement and characterisation, and small-scale pilot production, incorporating their broad academic expertise to offer innovative business solutions.
New office accommodation will sit alongside shared, interactive working zones as well as laboratory and breakout spaces.  This will enable further collaboration between researchers and industry professionals, creating a working environment that will attract and retain the most talented individuals.
Mark McCullagh, Associate Director at Ardmac said "Collaborating with AED and BYUK at Cardiff Innovation Campus really resonates with Ardmac as innovation has been a key part of what Ardmac have become known for in the cleanroom industry".
Ardmac's client base now specifically look to Ardmac's experience and expertise in BIM, including Revit and Navisworks, when they need modern state of the art cleanrooms.
Ardmac's 25-strong team of REVIT technicians embrace technology and innovation and we're always looking at ways to improve our delivery in order to add value to our clients and help them achieve their project goals.  Ardmac have been utilising 3D modelling for design and construction coordination for over 20 years.  BIM and LEAN are a core part Ardmac's SMART delivery model facilitating collaboration and co-ordination from design through to construction and handover. The project will implement the latest digital field collaboration software to support the build allowing clear lines of communication between all stakeholders.