Safety First,  Seasons of Safety
In many parts of the world, the year is made up of four different seasons. These seasons are spring, summer, autumn, and winter. Each has its own pattern variation of activity. At Ardmac, our Seasons of Safety (SoS) approach reflects the seasons.
We use the tree as an icon. Though the seasons change, our core values of Safety First remain the same throughout the seasons. believe, through our safety first programme we can eliminate injuries and enhance people's lives through embedding positive attitudes and beliefs to safety, enabling them to think and about safety positively and in a different way.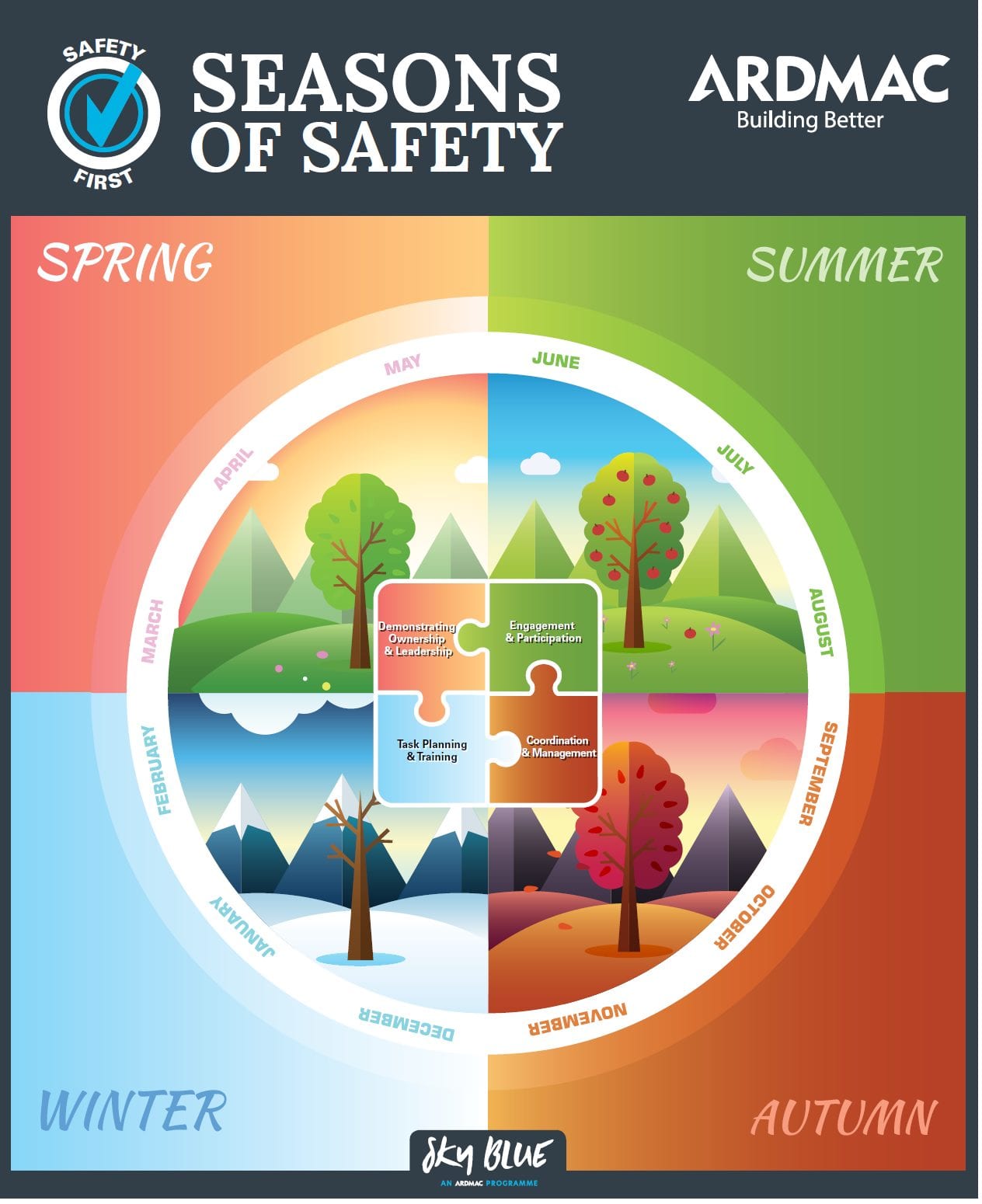 Our focus on seasonal activity incorporates aspects of Safety , Health, Wellness, Environmental and recognising Safety Ambassadors and allows us to communicate our message in a way that is easily relatable to those working with us. 
With key activities happening throughout the year,  we theme these in line with the seasons to reinforce our safety message continuously. Summer sunshine, Winter weather and Spring breaks for example all bring opportunities to focus on safety. This is achieved through our Safety First programme designed to improve ownership and leadership among our people to be the very best we can be and to re-think the way that we manage and behave towards working safely. 
Supporting health within these seasons for example the impact of dark days in Autumn and Winter on mental health and sunshine protection in Summer and Spring , all highlight the need to consistently promote safety throughout the seasons. We aim to achieve our goal of zero incidents and injuries at all our workplaces throughout the seasons. 
The seasons also give us an opportunity to promote responsible business practices. Encouraging teams to reduce their carbon footprint during the summer months, reduce their consumption and waste over the Christmas period and even encourage a spring clean out! 
All of our activity is underpinned by our core values within the cornerstones of Safety First. 
Seasons Of Safety Video: