A safe pair of hands in delivering primary, acute & specialist solutions
Ardmac offers unique health care solutions covering all aspects of new builds, renovations and refurbishments where infection control and containment are critical. Unlike any other service partner, we offer integrated facility solutions that combine traditional general contracting with specialist subcontracting services internal or outsourced, depending on the requirements and nature of the work. 
We have many decades of experience in the industry and expertise in all areas of construction, which includes refurbishments and prefabricated, modular solutions. Our clients benefit from our proven track record of smooth and efficient project management in Ireland and Europe. 
Health Care and Life Sciences are our core strengths
Ardmac offers solutions for the healthcare sector from both our experience, current projects and our partnership with Germfree and manufacturing partner Cental for modular facilities. With a focus on developments in health care and life science we guarantee to add value to your project from initial planning to hand-over.
With extensive experience in the construction of controlled environments including:
– Pharmacies & radiopharmacy compounding
– BSL 2/3 containment laboratories
– Operating theatres
– Isolation wards
– Intensive care units (ICU)
Choose a partner you can rely on, the one with the best & most advanced service for your project
We manage all aspects of the project for you and bring all parties involved together to deliver a premium project on time, within budget and to the highest standards.
Ardmac works with the most advanced construction management tools and techniques including LEAN Construction, LPS® (Last Planner® System), SMART Field Management & Productivity, BIM (Building Information Modelling, ECI (Early Contractor Involvement) and more. Click here to find out how we work.
The successful implementation of modern methods of construction has been rewarded by many long-term partnerships with our clients. Those who choose to work with, benefit from the combination of the power of a modern, large organisation with direct and close contact with each client. 
Our portfolio: From general contracting service to complex, integrated turnkey services
Our comprehensive portfolio further covers almost every aspect, element and scale of project, from basic FM maintenance services to critical care environments.
Maximum safety for your patients and minimum disruption for your medical teams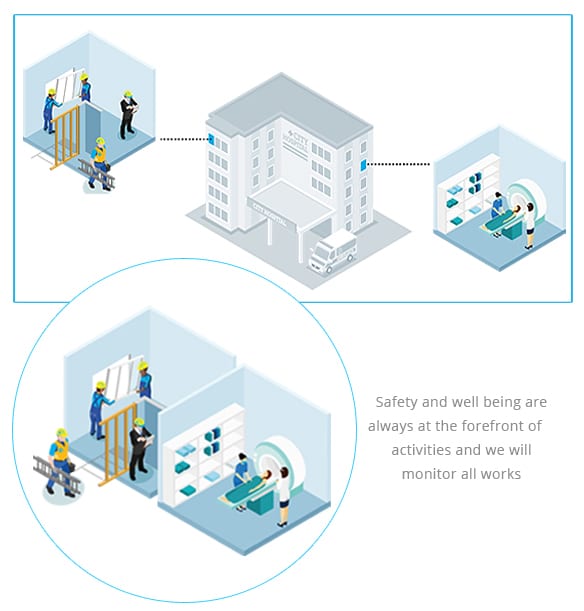 At Ardmac we understand your staff, your patients and visitors as 'the client on-site' and work on the basis that technical interfaces are crucial, and all hospital functions are critical and must continue to operate effectively during any change.
Ardmac – Making the difference
We are the specialist for mission critical projects and all works are carried out based on our stringent project planning & management for your peace of mind.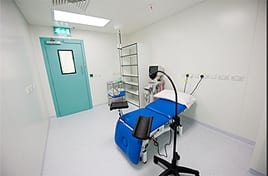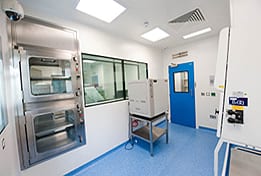 Our Clients Include:
Bone Marrow Transplantation at Crumlin Children's Hospital
This was a fast-track critical care hematopoietic stem cell transplant (HSCT) lab for children. A modular solution, it was built offsite and dropped into a very tight service yard space with a link to the main hospital building. Complexities included coordination around live hospital services and LN2 cryopreservation safety considerations.

Infectious Disease Control at Waterford Regional Hospital
Areas of applications & facilities 
• Bio safety
• Cancer treatment centresio safety
• Development of HSE plans, upgrade / downgrade hospitals
• Dialysis clinics
• Fertility clinics
• GMPC pharmacy cleanroom space
• Hospital renovations & expansions
• ICU /HDU
• Isolation suites
BSL3 Lab Suite: This was a multi suite biosafety lab for handling and processing four separate Hazard Group 3 infectious disease agents. We used a smart design around central services including autoclaving and vapour bio-decontamination and built within an existing building surrounded by live services.
IVF at Merrion Fertility Clinic
This project required a smart and creative use of the space in between hospital buildings. The offsite modular building was dropped into place and linked into the campus network. Specialist works included a combination of treatment rooms, recovery and lab space, giving the comfort and intimacy critical for fertility success.
Chemotherapy at St. Vincent's University Hospital
This was a critical care GMP cleanroom aseptic compounding unit for preparing short shelf-life cancer treatments for vulnerable patients. Always ON operational availability is a must have requirement. Smart design provides for maintenance access from outside and special finishes for frequent cleaning and disinfection.
• Long term acute care centres
• MediPods / Off-site built modular
• New hospital construction & ward refurbishment
• Operating rooms
• Research & diagnostic laboratory facilities