EV Battery – Clean and Dry Rooms
The Ardmac Way
Leveraging our extensive knowledge and experience in the cleanroom sector, Ardmac have the right technical solutions to respond to the increasing demands of the EV industry.
In line with the rapid increase in the use of electric vehicles worldwide, the global lithium-ion battery market size is expected to expand at a CAGR of 18.1% from 2022 and reach $182 billion by 2030, according to a recent report by Grand View Research, Inc. Key to this target being achieved will be the availability of suitable giga-battery manufacturing facilities.
Given the reactive nature of lithium, specialised closely controlled dry room environments are critical to the manufacturing process for high-quality lithium-ion batteries. This requires the application of cleanroom and humidity control technologies coupled with the expertise of our teams to deliver ultra-low RH clean facilities. Ardmac have developed a number of design solutions, tailored to suit your project's specific requirements in relation to your clean and dry room performance. With 45 years of experience in the successful delivery of close controlled environments for the advanced technology sector, Ardmac and our specialist partners are ideally positioned to deliver your next EVBF manufacturing facility.
Dry cleanrooms are hermetically sealed dry rooms, along with mini-environments that contain and maintain ultra-low humidity levels while also controlling airborne particle concentrations and static discharges. Specific requirements for such facilities can vary but would typically be ISO Class 6 – 8 dry rooms, with Relative Humidity level of <1% or a Dew Point of -50° Celsius. Regardless of whether it is a small-scale R&D facility or a large scale giga-plant the same design principles will be applied.
The design solutions required to achieve ideal dry room conditions are made up of 2 critical elements: the architectural envelope, and the HVAC system. All design solutions must ensure the matching of the architectural envelop with the HVAC systems; to achieve the required performance they must be indivisible.
The architectural envelope is responsible for meeting the requirements in relation to the provision of a hermetically sealed room. The HVAC system is responsible for ensuring that the required temperature, humidity levels and airborne particle concentrations are maintained. While the design principles for dry rooms remain consistent, the project specific design solutions can vary depending on a number of key design variables which include the following:
Room occupancy levels
Required temperature and relative humidity levels & control bandwidths
Physical room dimensions
Sensible internal heat loads
Room exhaust rates
Process workflows and equipment layouts
Material and people flows and airlock barriers i.e. MALs and PALs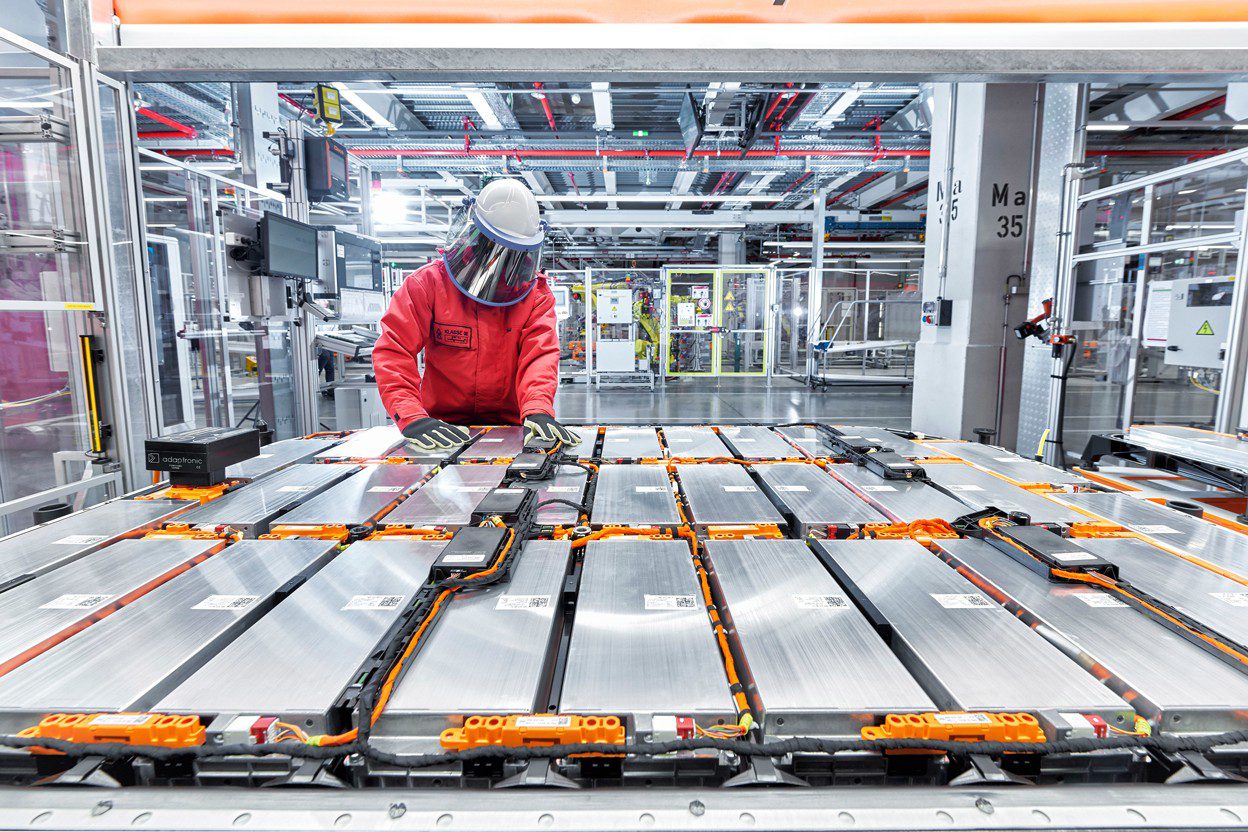 Batteries for an electric car are assembled. Credit: Audi AG
Clean and Dry Rooms The Ardmac Way
Certainty of Performance
Intelligent Design
Clean and Dry Rooms require an integrated design of each contamination risk element. There can be no split responsibilities over performance and accountability; this only leads to over-design and inefficiencies, with an unnecessary increase in capital expenditure and then operational expenditure.
Working Smart
Ardmac work "Smart" which means we deploy innovative and integrated technologies throughout our business to coordinate our building processes and drive performance. We apply Lean construction and cloud-based collaboration tools including BIM, Last Planner, GoContractor and Procore to maximise value for our clients. By implementing these powerful tools, clients are directly embedded in the process and can see project performance in real time.
Vapour Shield
Ardmac's VapourShield approach – Ardmac are specialists in providing controlled environments with moisture and particle containment at the centre of our focus. We ensure all penetrations and joints are designed with vapour permeability in mind. This includes the entry and exit MAL and PAL barriers to moisture ingress.
Smart Control
Every extra gram of moisture that has to be treated adds an unnecessary cost. Ardmac uses Smart adaptive demand-based control, with continuous monitoring of critical environmental parameters of moisture content, airborne particles and static charge levels. This real-time information, when coupled with integrated control of MALs and PALs ensures no moisture ingress during operations and precise contamination control, in the most efficient and cost-effective manner.
Firestopping and Safeguarding
There are inherent safety hazards involved with lithium-ion battery manufacturing processes, in particular, as their electrolytes are flammable by nature.
Ardmac provide dedicated fire compartmentation for process segregation and isolation, for example those areas around aging ovens.
In addition, off-gas monitoring is critical to guard against thermal runaway, which is an exothermic reaction in which lithium- ion battery cell temperatures rise rapidly in an uncontrollable manner, and toxic gases are vented, increasing the risk of personnel safety, fire and explosions.
Energy Efficient
Ardmac has a particular expertise in cleanroom and dry cleanroom​ and integrating Smart HVAC systems and desiccant dryers. Smart design principles are important when developing airlocks (MALs & PALs) to control air infiltration before it gets into the dry cleanroom and sensitive lithium-Ion battery processes.
Air leakage and unnecessary moisture treatment are the unseen enemies of good operational efficiencies and OPEX control.
Scale and Speed of Delivery
Ardmac's ability to deliver these fast-track giga battery facilities is demonstrated by our proven ability to deliver complex, large scale data centres and microelectronic facilities across the UK and Europe.
There is no room for errors, either in design, co-ordination or execution to commissioning, performance verification, certification, handover and start-up. Speed of volume production is critical in this fast-changing EV landscape.
Giga Battery Applications
High technology applications require working in precisely controlled environmental conditions. Lithium battery application is fast growing across diversified industries like electronics, automotive, electric vehicles (EV), energy storage, solar, telecom, power, defence, space/satellite, healthcare etc. The lithium-Ions are the carrier that creates the battery power, but lithium is only a component of a complex battery system. A lithium-ion battery is made up of four primary components.
Dry Cleanroom Requirements
Pure lithium metal is extremely sensitive to even tiny amounts of moisture in the air, and leads to reduced performance and reliability over the battery life cycle. With the latest LI chemistries, lithium salts are used to keep the electrolytes stable. In some chemistries, moisture leads to the generation of hydrogen fluoride as an undesired by-product, which leads to gassing and bloating up of Prismatic and Pouch batteries, thereby reducing performance and life expectancy.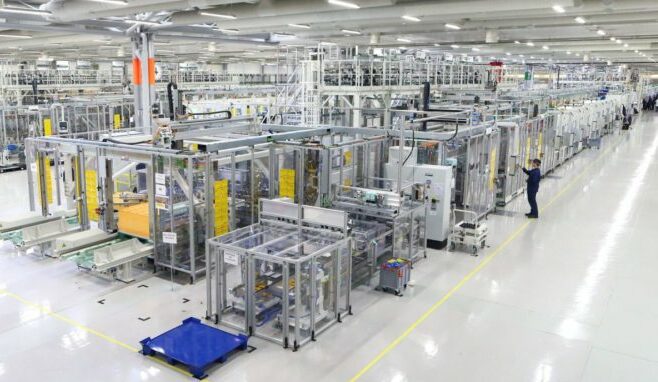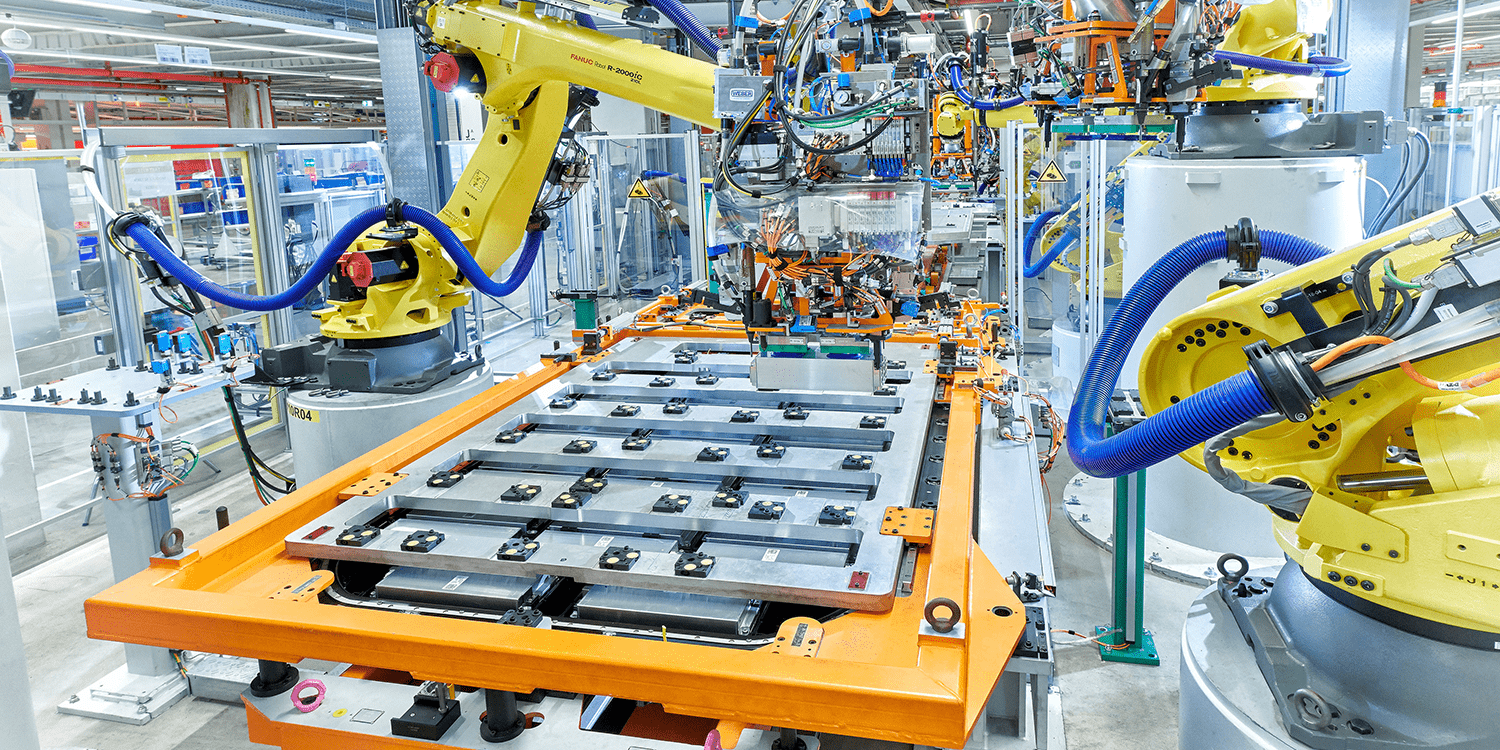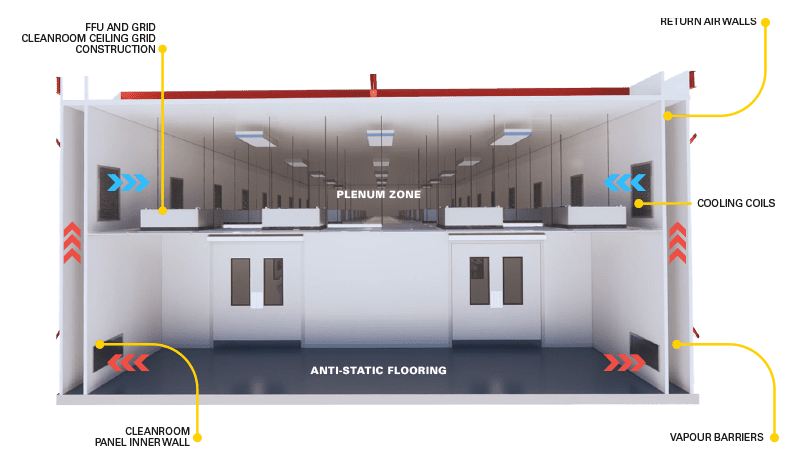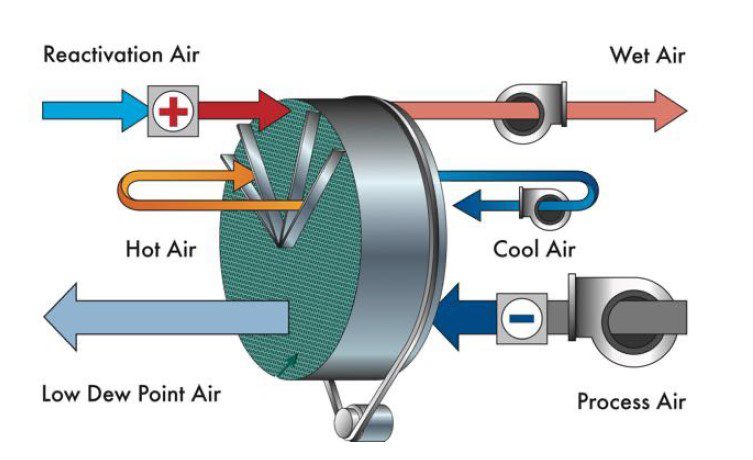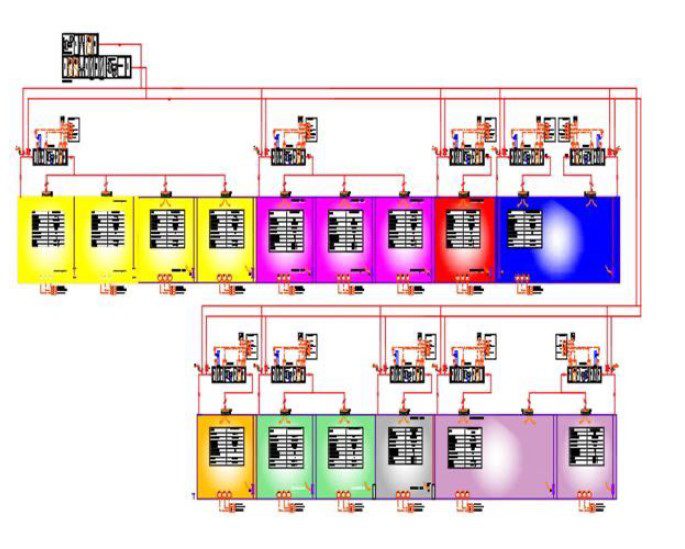 EV Battery Manufacturing Processes and Contamination Control:
EV battery manufacturing processes are complex, sensitive, and delicate, in a multi-stage sequence with mixing, pumping, coating, injection, calendering, ageing and assembly operations.
EV battery contaminants include moisture, particles and static, chemical and electrical fire and safety risks. Therefore, robotics and automation are extensively used to provide both product component protection and personal safety.
Typically, there are 4 processes to EV battery manufacturing. The following process steps are indicative of a typical battery, chemistries, and technologies.
These process steps are carried out in multiple and different, interconnected dry cleanrooms and storage areas, within the overall EV battery manufacturing facility.
Electrode Manufacturing
Raw materials are combined to produce a slurry material. This is coated onto a metallic substrate producing individual anode and cathode electrodes. The anode and cathode materials must be separate, always, to prevent contamination.
Cell Assembly (Cylindrical/Pouch)
The electrodes are brought together but separated by a 'separator'. The electrolyte solution is injected into the cell.
Formation, Ageing & Testing
During the formation process, the cell receives it's first electrical charge. A process of charging & discharging forms a protective layer on the electrodes. This protects the active material from the electrolyte solution.
Module Assembly
Individual cells are mechanically connected to form the battery module.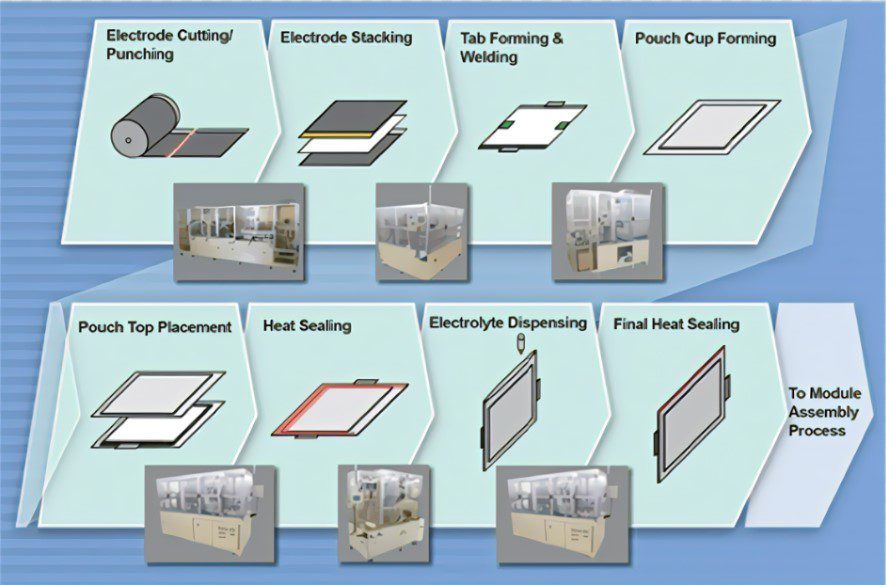 "Having worked with Ardmac design team for several months, Wates have found them to be highly motivated in providing ourselves and the Client with an experienced team of Designers who work collaboratively within the wider project design team, utilising project specific BIM requirements.  Information has been issued to the agreed timescales and to a high standard to enable detailed reviews to be undertaken, and finalised details and agreements to be made with the Client prior to conclusion of the design process. Ardmac's deep knowledge and understanding of the proposed products has helped understand other key secondary work elements."