Ardmac would like to congratulate Peter Gough who has won Project Manager of the year at the #ICIAwards. Peter has been commended for his focus on Lean Construction Techniques, Teamwork & Collaboration. This is a great achievement for both Peter and Ardmac and truly well deserved.
Peter Gough joined Ardmac in 2013 and has been instrumental in the successful completion of over 12 Cleanroom projects as Senior Project Manager at Ardmac. Having recently turned 31, Peter has over 10 years' experience in the construction industry. A native of Tipperary, Peter began his training in Architectural Technology and continued to where he gained an MSc in Sustainable Development. Peter is a senior Project Manager with Ardmac. Prior to this Peter had spent many years practising as a Senior Architectural Technologist for some of Ireland's largest cleanroom projects.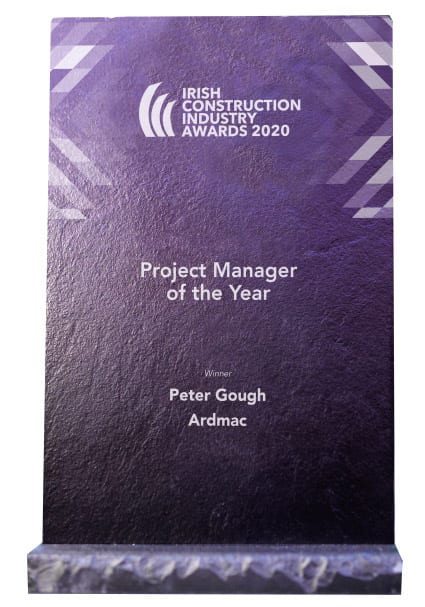 Peter brings a wealth of experience and has proven his strong abilities in the successful delivery of various projects, specialising in the pharmaceutical sector, including cleanroom projects for Eli Lilly and MSD. Peter is extremely proficient in delivering the highest quality projects from the client's concept, design to handover. Peters leadership skills on projects have ensured successful delivery and completion on schedule and on budget.
Peters strong programme planning skills, leadership and personal commitment to safety and delivery of a quality project, through effective management of his team, make him a deserved winner of this award. Peter is committed to our Sky Blue program and has been instrumental in fundraising within the various projects he has worked on to give back to the local communities. In 2019, Peter was selected to complete Ardmac's Building Better Leaders program with Trinity Business School.
Peter motivates his team to work hard on site and focus on excellence as standard. He is a true leader on site and respected by all those that work with him. Peter ensures that his team are trained and upskilled on the latest technology and processes to ensure a seamless delivery of any project. Under Peter's leadership, his team, on one project in Cork alone achieved over 100,000 working hours without a reportable incident – a significant achievement for any project. This award is truly well deserved. Well done Peter!