CHAIN is a global digital supply chain magazine on a mission to uncover the most recent news stories and best practices impacting on the world's ever-evolving supply chain industry. Each edition, we bring you exclusive interviews courtesy of the biggest names in the business, together with must-read stories to whet your appetite for the latest industry activities. If you have a feature in mind, please do not hesitate in reaching out to our team. We are pleased to bring you our autumn issue of CHAIN featuring four exclusive interviews with Ardmac, Saferoad Group, Coyote Logistics and Optel Group.
See digital issue here: Seventh Edition | CHAIN Magazine (chain-mag.com)
---
DRIVING PERFORMANCE, EMPOWERING PEOPLE & DELIGHTING CLIENTS
CHRIS FITZPATRICK, Head of Innovation and Technology at Ardmac, charts his company's digital transformation journey
In the 45 years since its inception, Ardmac has earned itself a reputation not just for delivering results, but for exceeding client expectations. This has not gone unnoticed; what was once a small Irish operation is now the leading provider of high-tech cleanrooms, data centre solutions, fit-outs, specialised refurbishments, and turn-key manufacturing facilities across Europe.
Group turnover within Ireland alone last year was €75million, while overall turnover was closer to €135million.
The past 12 to 18 months have seen Ardmac complete a whole range of significant projects across Ireland, the UK and Europe; these included a 15,000 square metre cleanroom facility for WuXi Biologics in Dundalk, a large microelectronic project in Kildare, several data centre projects in Europe, and several high-end commercial fit-outs in Ireland and the UK. Key recent wins have included large pharma facilities in Limerick, Cork and Finland, data centre projects in Denmark, Germany and Austria, and battery facilities in the UK.
Modular construction is fast becoming a key part of the group's activity. Having already delivered several such projects across Europe, its first modular project in Africa is on track to be delivered by the end of 2022. So far this year, the company has been working on several large campus sites, securing further phases.
Chris Fitzpatrick joined Ardmac in January 2017 as IT Manager before taking on the role of Head of Innovation and Technology in 2021. Today, his responsibilities include developing and delivering the company's technology and innovation strategy and ensuring its platforms are secure and reliable for all staff and clients. In addition to this, Chris believes it is important to keep an eye out for future technologies that could improve the business. He says, "The second arm to my role is around innovation, building and developing a culture of innovation across Ardmac, being able to collect ideas and bring them into our innovation funnel, and developing new ways of working and new business models which can be spread out across the group. It is a very interesting and varied role, with a good level of visibility across the organisation, as well as support from our senior leadership team and board of directors."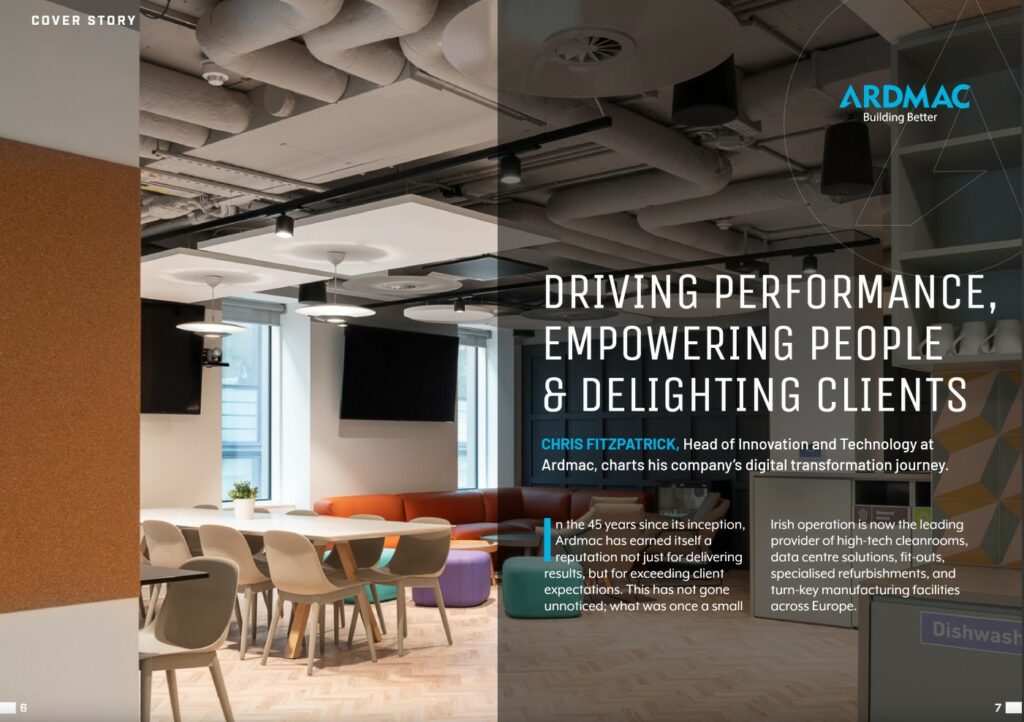 Speaking of Ardmac's digital transformation journey, Chris began by developing a strategy to modernise the company's IT platforms and systems that were in place. He explains, "Our starting point was the back office where we had an existing platform. It was working quite well for the organisation, but it was very labour intensive and paper heavy. Having conducted a thorough review of the business, identifying strengths and weaknesses and pain points of the organisation, we were able to put together a pretty robust business case to move to a new ERP platform. We then approached the market with our requirements to identify a good platform and partner that we believed would bring a lot of value to the organisation.
"Through our ERP replacement program, we were able to replace the legacy platform, and decentralise a lot of the administration and compliance work across the organisation. This was the first major transformation project we did in collaboration with our partner Eque2, moving our financial and commercial teams off the legacy system and onto a brand new platform."
Chris continues, "All the old paperbased processes, such as expenses, timesheets, ordering and receiving of goods, have been migrated onto web-based 24/7 online platforms that are fully integrated. It is a really slick process that has completely streamlined the financial and commercial parts of our organisation. Using our new reporting platform Jet, we have been able to decentralise that work from the finance function and out into our commercial teams, giving them secure real-time access to the commercial data on their projects quickly and easily. By mirroring all of our existing reports preupgrade, it meant that we didn't have to retrain people during the cutover."
At an organisation level, Chris is excited by the move towards modular construction and building off-site. As part of its strategy for the future, Ardmac has now welcomed Cental – a leading and fast-growth provider of advanced modular infrastructure to the data centre, pharma, utilities, and telecoms industries – to the group. Cental's manufacturing capability will support Ardmac's ongoing agreement with USbased Germfree Laboratories, to provide prefabricated turnkey modular cleanrooms and biosafety laboratories to the biopharma and healthcare sectors throughout Europe. It will provide a manufacturing base for all other Ardmac modular solutions under one roof. Chris enthuses, "We have recently welcomed Cental to the Ardmac Group. It is a fantastic addition and really shows the ambition that exists within Ardmac."
From a technology perspective, Ardmac works on a three-pillar strategy, which is referred to as working SMART:
1. Driving performance
2. Empowering our people
3. Delighting our customers.
Having these three pillars gives clarity around the outcomes Chris and his team are looking to achieve. A really important part of Chris' role is trying to find an answer to 'What are we doing in the next two to three years, and what do we need to be getting ready for?' It is Chris' job to get Ardmac set for the technology that is coming down the line, and understanding and trialling what could work well for Ardmac. Chris explains, "Can we find new technologies and processes that will drive performance, empower our people, and delight our customers? 5G is super-important to us. A lot of the tools we have deployed off-site really depend on a strong Wi-Fi connection. It is what people have come to expect these days when they are on construction sites. In terms of rolling out, Three Mobile have been a big supporter of what we have been trying to do over the last couple of years, and are one of our strongest partners.
"Low code is something we are really excited about. We are looking at low-code platforms and being able to develop our own apps. In the past, we would have had to work with vendors to buy software and platforms for processes with varying levels of success. Low-code tools are available now, where we can develop our own processes very quickly. We take a lean and agile approach, where we can refine what we are doing as we work on different projects across the group." What's more, artificial intelligence could play a role in helping to make Ardmac leaner, safer, and ultimately more productive, with a better return on investment for the organisation. Chris explains that some processes in the organisation are yet to be digitalised. He says the company has a strong safety-first culture – it's Ardmac's number one guiding principle – so we have been reluctant to digitalise processes around safety until we know for certain that these values will be upheld. That said, Ardmac prides itself on its forward-looking strategic approach. But, is it a challenge to build an innovation mindset into the company culture? Chris answers, "I think one of the biggest challenges we have seen lies in trying to keep the energy levels up around innovation. People are busy doing their day jobs, delivering projects, and keeping our clients happy. Making time for innovation is difficult, but when we get diverse groups of people together in rooms discussing challenges in the business, we generally see really good engagement, some interesting ideas, and feedback on what could work best across the organisation." Ardmac is currently in the process of trying to reenergise the practice of bringing teams together in small targeted groups to talk about a specific topic.
Chris explains, "During Covid, we lost energy because we found it difficult to engage on Teams calls. We now want to bring this format back to life. What's worked well for us in the past is when a group self-selects its own idea, which empowers them to go off, do their research, and identify how they can roll it out. My role as facilitator is to make sure the project gets the momentum it deserves, as well as challenging the groups to think about why an idea is likely to be a success or failure." Chris' starting point for building a strong team is to think about what he is trying to do and where he is trying to get to. He says, "As a large organisation that consists of a few hundred people, we aim to recruit likeminded people who are willing to engage and move the business forward. From an innovation perspective, if you bring people together with similar backgrounds, you tend to get similar ideas. But, when you bring diverse groups of people together, who work in different areas of the business, you generally get much more rounded ideas that are then challenged in different ways. We are looking to work with people who want to get involved, develop their careers and are passionate about our organisation."
Chris adds, "We can easily find people across the organisation who buy into these principles, helping to develop new ideas into workable solutions." Collaboration with other organisations has been a key component to Ardmac's success. Chris explains, "Building strong partnerships is hugely important. Without our supply chain and our partners, we would have effectively been left to do a lot of things ourselves. From a technology perspective, we have a small team, so our vendors are critical partners. They develop the solutions, and we work together to roll them out and embed them into our processes and procedures. "For us being able to develop apps ourselves with low-code tools is a great step forward, but we are always going to need the platforms in terms of our core day-to-day work. Having great partners, who have bought into our journey just as much as their own, is key for us, and we have been lucky to find some excellent partners to work with."
As mentioned, Ardmac teamed up with Eque2 on its first big transformation project. Chris says, "This project set the tone across the business as to where we were going from a technology perspective. After we went live on the system, backoffice processes were faster and easier to access because everything went online. It meant that when we looked at other areas of the business, we already had a successful case study that we could show people to explain how it worked and what we needed to do." Go Contractor is another strong partner for Ardmac. Chris enthuses, "Go Contractor is a workforce management tool. This means that when an operative arrives at one of our sites, they have already completed their training online. They have uploaded all their health and safety information, and as all the records are digitalised, each project management team knows when their certifications are going to expire and can deal with them appropriately." Chris adds, "We can also put the operatives to work safely and quickly without having to do classroombased inductions, coupled with the slow process of verifying their documents. Helping us to drive performance on our projects, Go Contractor has been a fantastic partner. We previously had a paper-based productivity tool that had been in the company for a long time. We worked with Go Contractor to digitalise and centralise this process into our main collaboration and field software. Working with hardware devices in the field, our productivity tool is now fully integrated, allowing our project managers to get on with delivering their projects." The final partner Chris mentions is Diatec. He continues, "Like most AEC companies, we make extensive use of the Autodesk suite across our design and engineering teams. A key partner for us in this regard is Diatec, who provide licenses, technical support and guidance around the Autodesk suite, and best practices for our designers and engineers on the software. From a support perspective, we are able to bring any problem to them and they are happy to work with us to develop a solution. Diatec always bring us the latest and greatest platforms, challenging us on how we are using them. They are very upfront and honest in this way. We have developed a really good relationship with them over the last few years."
As for Ardmac's plans for the future, Chris reinforces his excitement for the modular side of things and the move to building off-site. He explains, "If the work is moving to manufacturing facilities, how can we ensure that the technology we have in place is fit for purpose? Can we lift and fit the technology platforms into a modular environment? In some cases, it will work, but in others, the manufacturing environment will be very different from a construction environment."
One of Ardmac's main goals is to continue to be a learning organisation, picking up lessons learned as they go. Chris says, "We have a large, distributed company with thousands of years of experience across our workforce and supply chain. By documenting and sharing lessons from our projects and teams within the organisation, we will keep developing our platforms, so when new technology lands, we can identify them early, and where possible, modify our processes in a controlled way. This will hopefully make people's work lives a little easier and solve some pain points along the way." Chris adds that there is little point in bringing in technology simply for technology's sake. He concludes, "If the technology is not going to fit into our strategy of driving performance, empowering our people, and delighting our clients, we are unlikely to get much value out of it as an organisation. It is therefore my role is to make sure that we are doing the right thing at the right time." On a personal level, Chris has recently joined the Operational Board for Ardmac and is excited to see how the executive level of the organisation operates. He concludes, "How can I bring some influence on those conversations? For me, to be included in the group and having a seat at the table shows how committed Ardmac is to having technology and innovation at the heart of the organisation going forward."