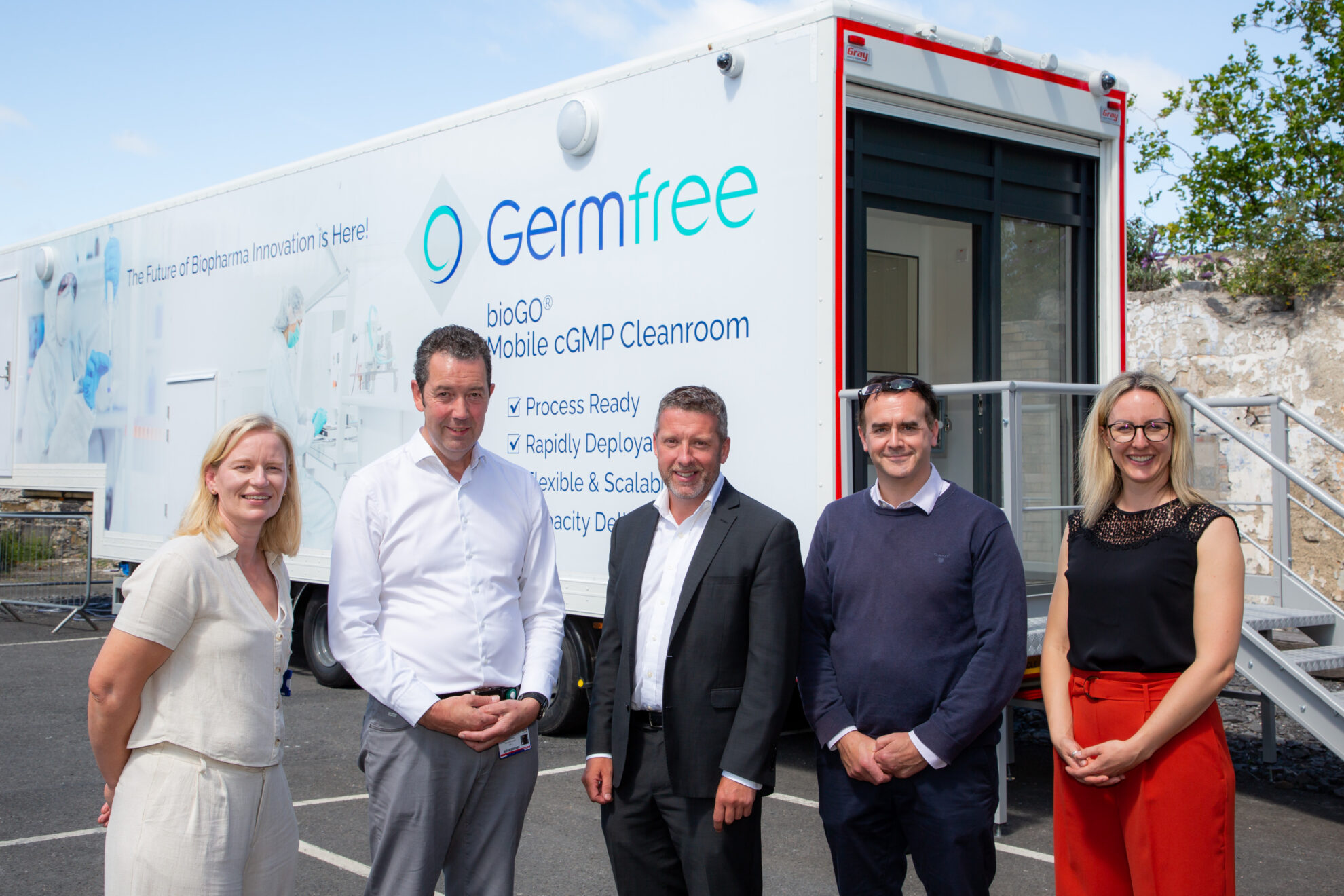 Our Germfree Europe team had a fantastic day with CEO and co-founder of aCGT vector Gary McAuslan and his team at St James Hospital Dublin, showcasing the Germfree mobile cleanroom in July.
aCGT Vector are developing disruptive technology to transform the way CAR-T cell therapies are manufactured. Gary notes that the company is a point of care manufacturer for cell therapies, and is focused initially on CAR-T therapy, while also looking at solid tumor tills.  aGCT Vector aim is to bring manufacturing and cell therapies approximal to patients, in Europe.
Gary explains that aGCT Vector was founded in 2020, as a response to the challenge of manufacturing cell therapies.
"Unfortunately, a very small number of patients receive what is today approved by the regulator, for example CAR-T therapies. Here in Ireland, approximately 30 patients have received CAR-T therapy since its approval in 2018. CAR-T treatment is transformational, people who may have initially been given weeks to live, are reporting 10 years later that they remain cancer free."
aCGT Vector have assembled a world class team who run the state-of-the-art infrastructure and technology approximal to patients and clinicals. This combined effort will increase patient access to modern medicine.
CAR-T treatments are extremely personalised and involve the patient's immune cells being collected and transformed into a treatment for their cancer. As it is unique to each patient, it is important to manufacture in close proximity to the patient. Germfree's mobile cleanroom trailer can facilitate this process. Their self-contained cGMP Biopharma cleanroom trailers can be deployed for a range of applications, where a dedicated cGMP compliant facility is required.
Gary explains how aCGT Vector and Germfree's partnership facilities CAR-T treatments.
"The Germfree mobile cleanroom is essentially a miniaturisation of pharmaceuticals and pharmaceutical technology, that has been enabled by Germfree and aCGT vector to bring the possibility of manufacturing CAR-T treatments, here in the hospital, approximal to the patient."
Germfree Europe are working with aCGT Vector to locate mobile cleanroom manufacturing systems in cancer centers of excellence which will eliminate complex logistics challenges, dramatically reducing the cost of the novel personalised medicines and thereby increasing patient access. This is a hugely important Irish innovation for healthcare provision and a snapshot of the future of point-of-care delivery of modern medicine.