Utilising state of the art manufacturing processes, Germfree and HOK are bringing robust BSL-2+ laboratories to market that will enable testing at a level not previously seen possible.
HOK teamed with Germfree Laboratories Inc. to design a mobile testing lab that will help large organisations meet this urgent need. As the licensed European partner for Germfree, Ardmac manufacture all modular and mobile Cleanroom and Biosafety solutions in Ireland for the European market.
These self-contained, biocontainment facilities can provide advanced, on-site capabilities for any setting. University campuses, corporate campuses, business parks, and manufacturing facilities are provided full-time, high throughput testing capabilities via a space-efficient and convertible laboratory. These facilities, along with local governments, enable an expanding testing network to monitor disease transmission and protect communities nationwide.
Protecting Communities, Advancing Global Health 
At a Germfree/HOK bioGO facility, it is estimated an average of 240 samples per day can be self-collected by the participants. With additional guidance from telemedicine, a test-kit is provided to participants who are assisted by limited personnel in PPE.
These facilities limit the need for large quantities of individuals in PPE to collect samples on the 'frontline' which will soon become the institutions that scores of individuals will be returning to work or learn. Up to 80 batches can be processed at a time in under 60 minutes with high-throughput testing platforms such as Cepheid GeneCpert Express, which will be available lab options.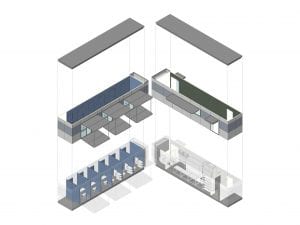 Process and registration information is provided on the website re outside the mobile lab. A healthcare worker will scan a QR code sent to each participant's mobile device and provide further instruction. Following the provided procedures, each person will collect their own sample and test results will be released within 24 hours.
Return to Work, Done Right
The Germfree/HOK COVID-19 Testing Labs will offer a clear and controlled method for a 'safer' return to work. As companies and educational institutions attempt to come together again, rapid testing is the only way to ensure a return of infection is mitigated.
Learn More
Germfree/HOK COVID-19 Lab                                                   Visit our Partner at HOK.com
HOK Press Release 6/11/20:
Access to quick, reliable, and repeated testing has been one of the greatest challenges for businesses, institutions and individuals during the COVID-19 crisis.
HOK teamed with Germfree Laboratories Inc. to design a mobile testing lab that will help large organizations meet this urgent need. These self-contained, biocontainment facilities can provide advanced, on-site capabilities for any setting.
Leveraging Germfree's experience manufacturing mobile biosafety labs and HOK's expertise in lab planning, the BSL 2+ level labs offer a rapidly deployable solution for testing active or suspected cases of COVID-19. Intended to address the needs of large institutions including universities, companies with large campuses, manufacturing facilities or government agencies, the labs can provide full-time, high-volume testing without building new structures.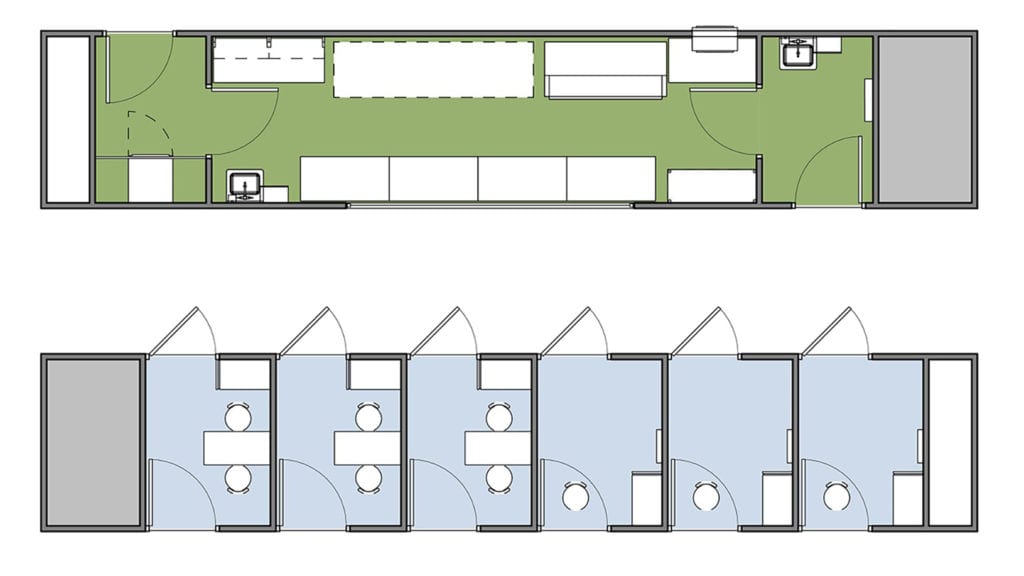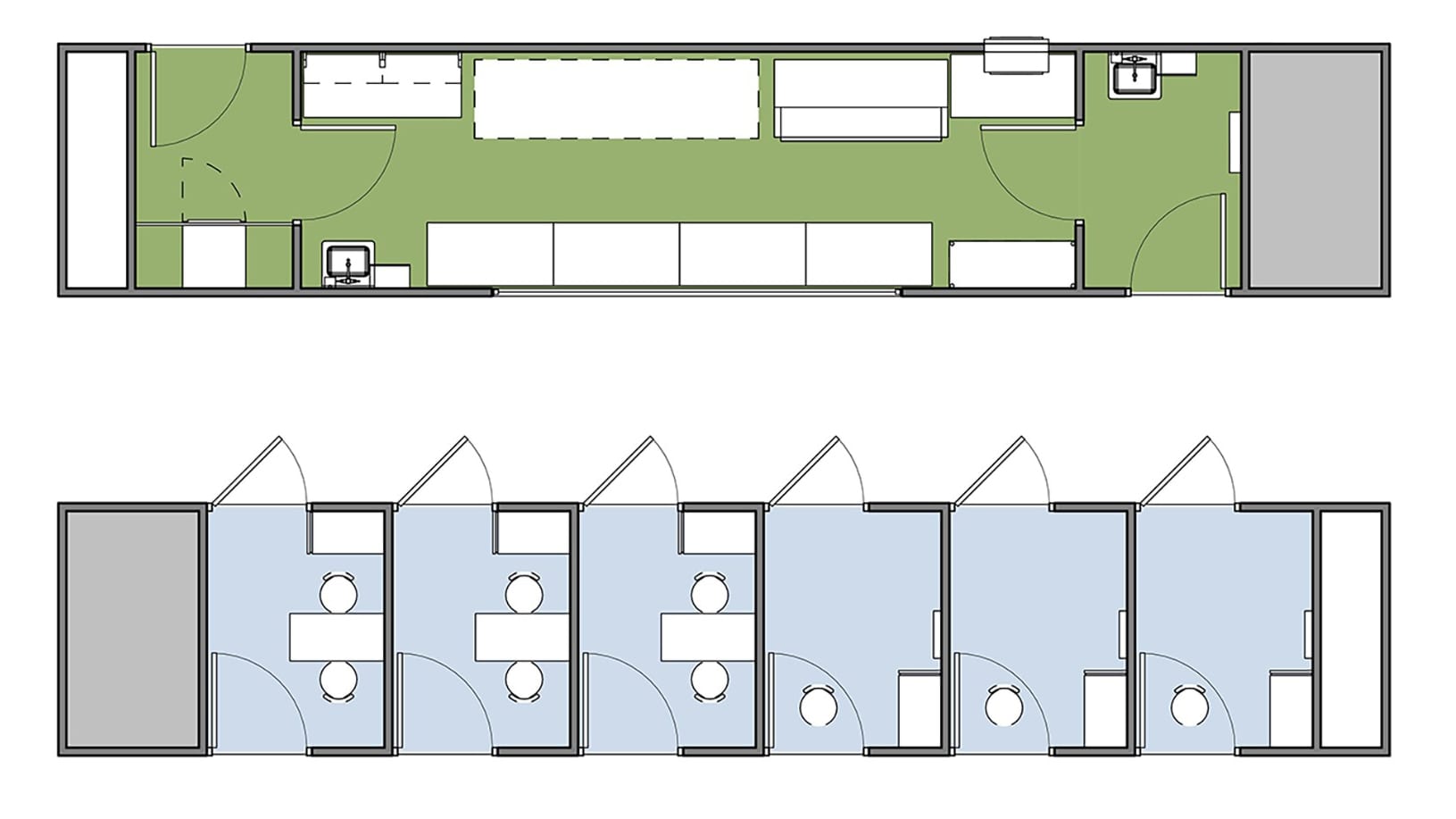 Made up of two Germfree modules, the labs accommodate up to nine staff workers as well as one or two high-throughput diagnostic machines capable of testing 80 samples at a time, resulting in up to 1,120 tests per day. One module is dedicated to sample collection and a second to testing.
To provide inherent flexibility, HOK designed the sample collection module to also support inoculations after a vaccine becomes available. In addition, the modules can be repurposed or relocated to respond to surge capacity or provide new capabilities for other campus labs, public health departments or related facilities.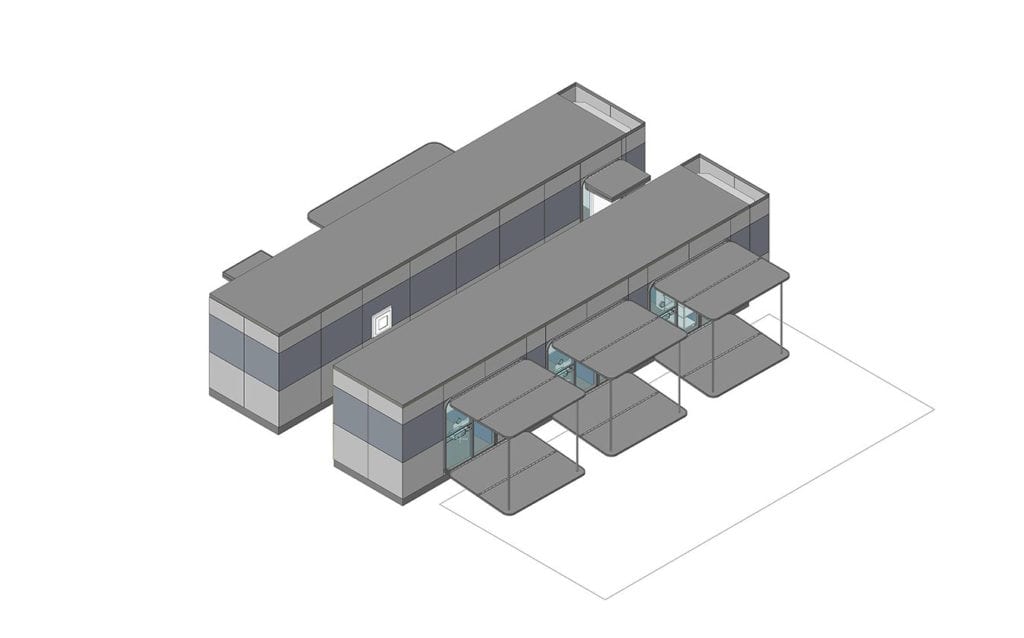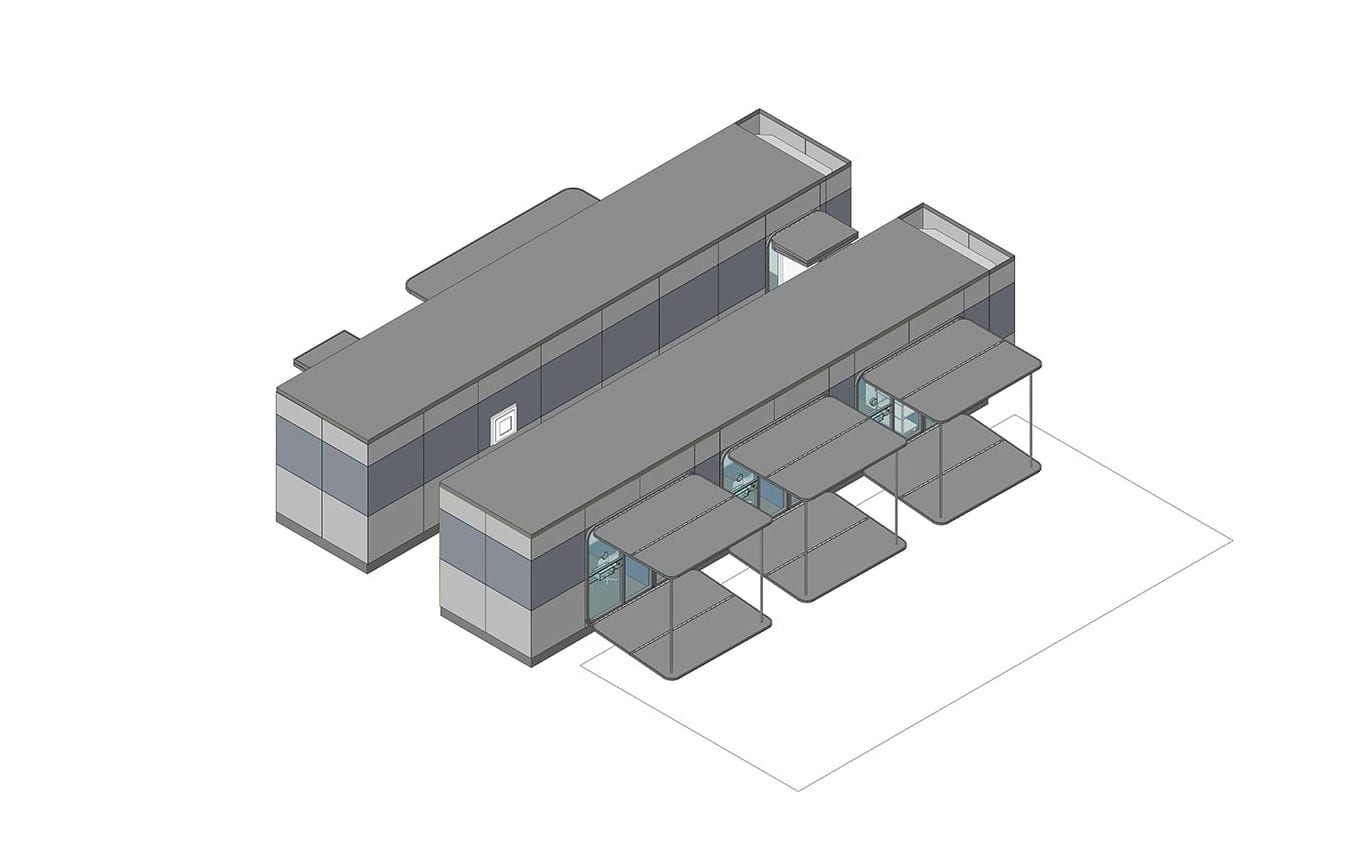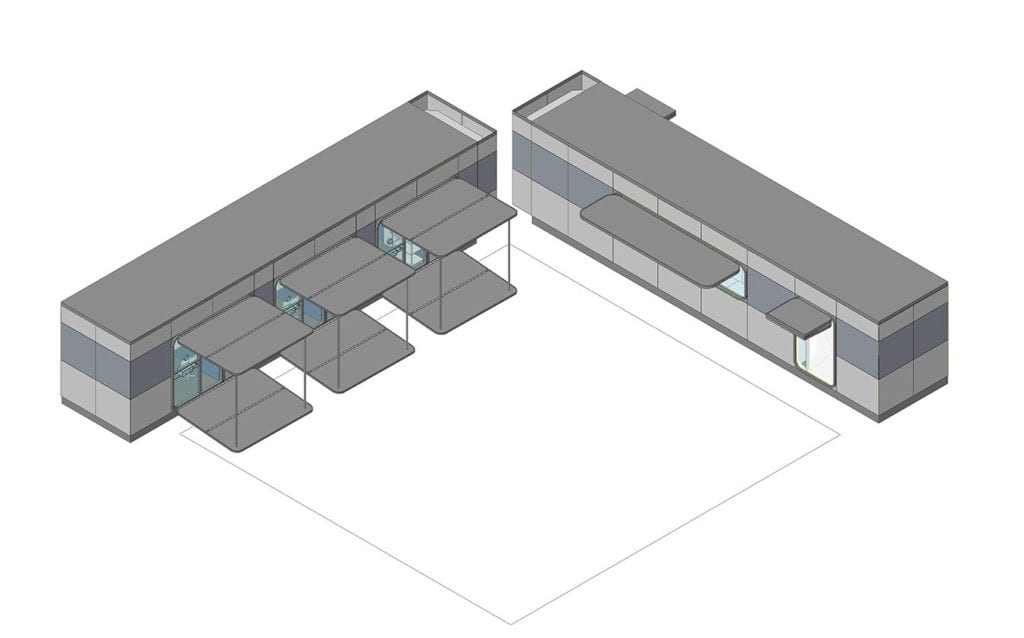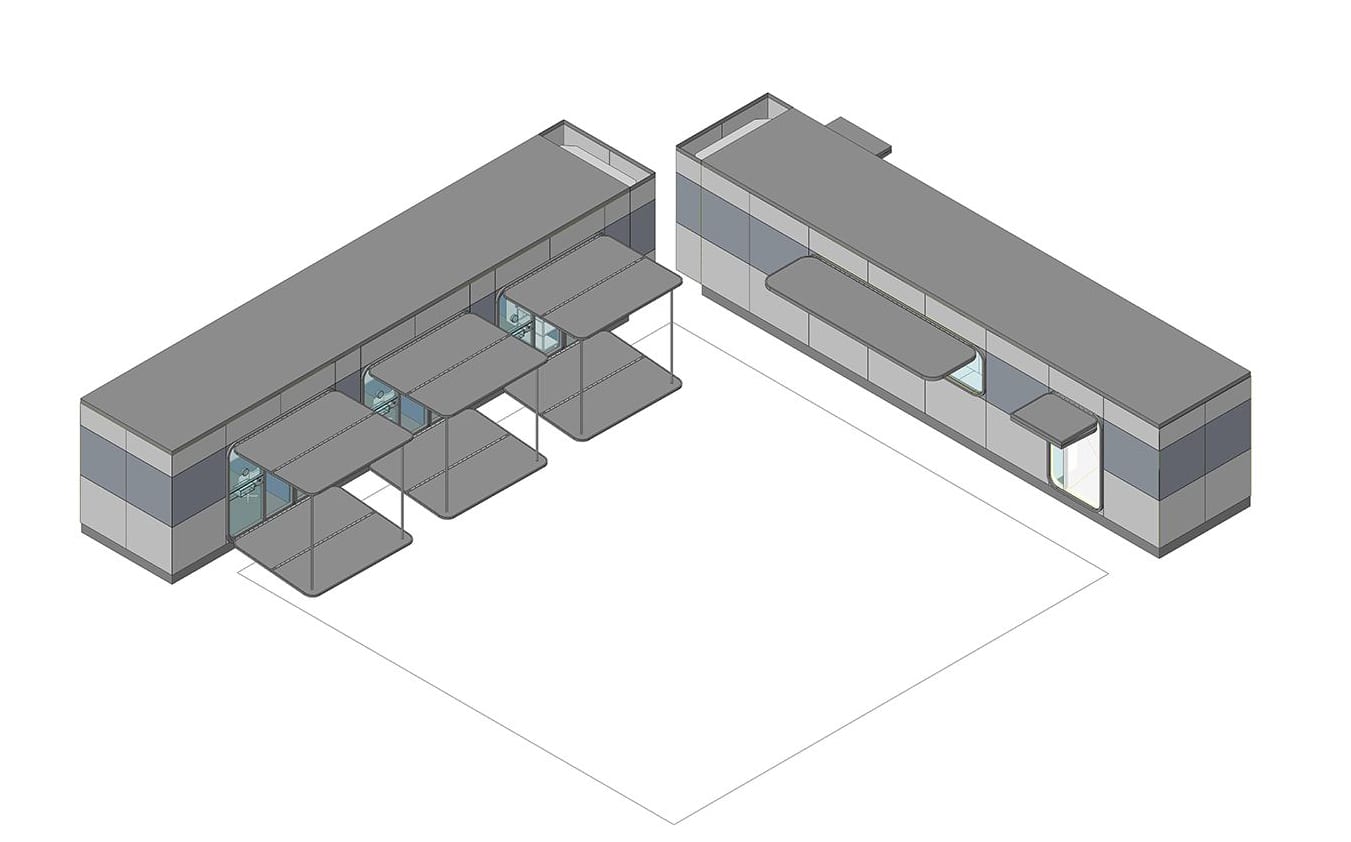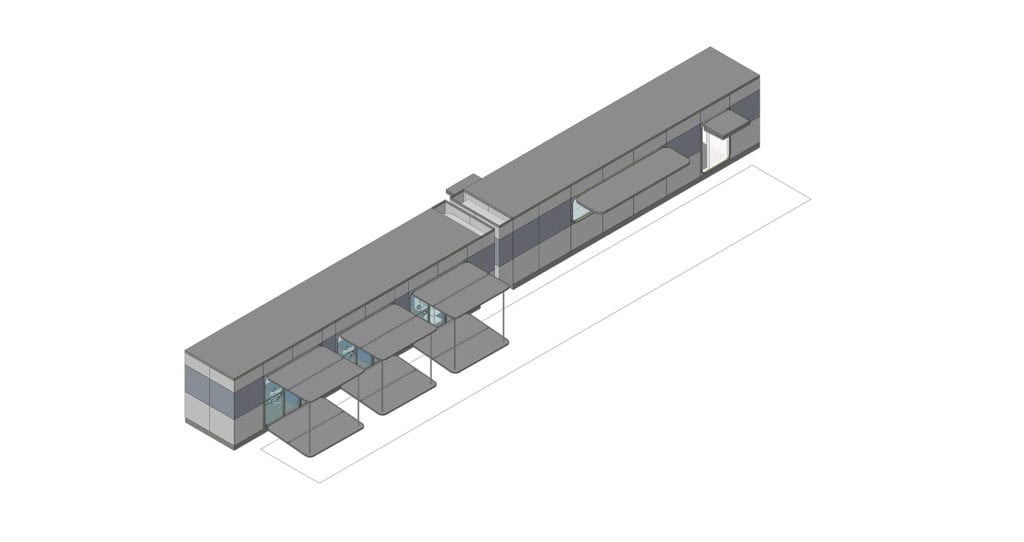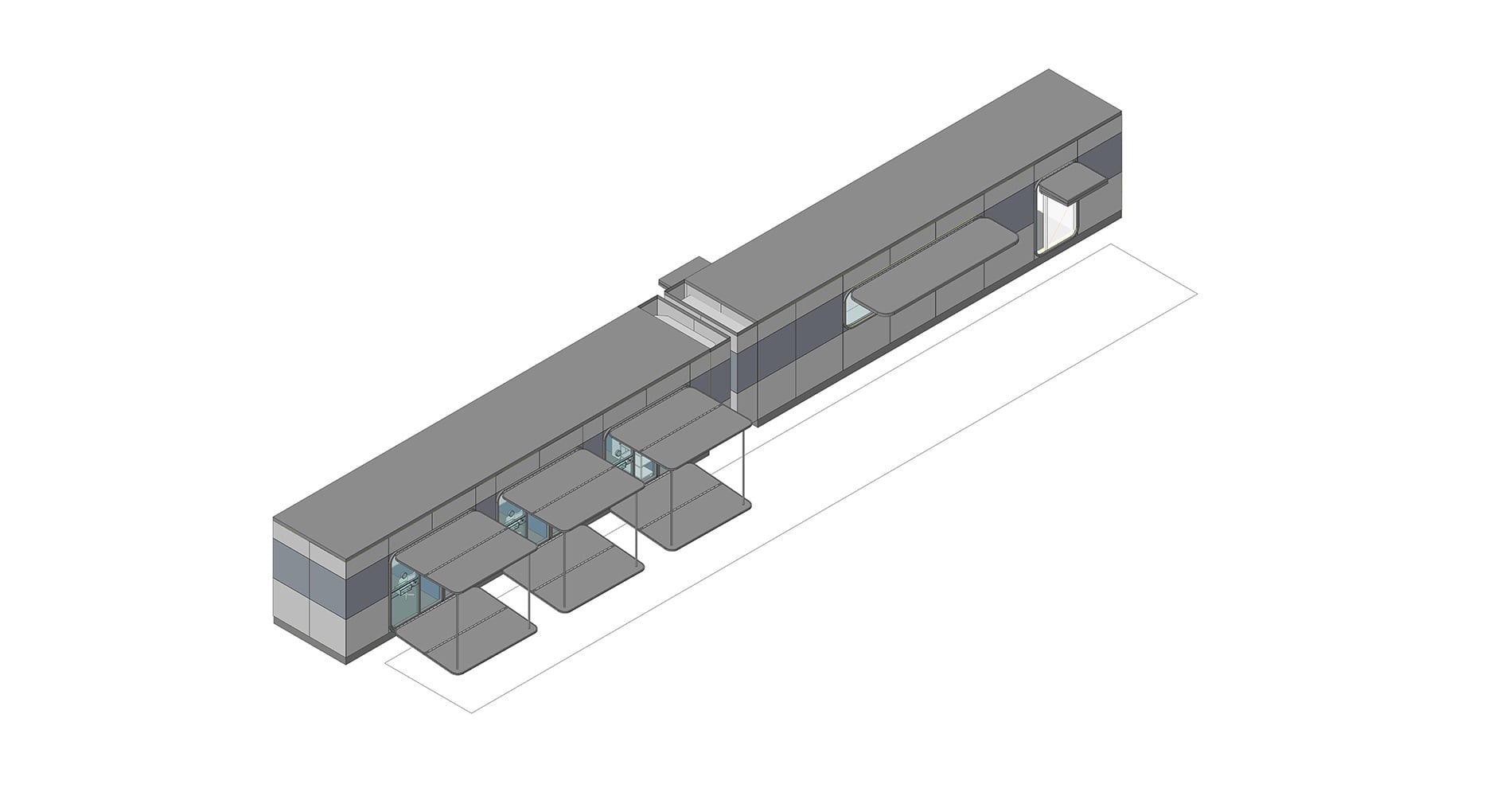 "We developed this solution to help our clients, many of whom have many employees or students that will require regular testing with immediate results," said Tim O'Connell, director of Science + Technology for HOK. "We considered the architectural object as much as the operational efficiencies of the lab, imbuing the modules with details that make them friendly and welcoming to the people who'll use them and appealing additions to an office park, city or campus."
The modules feature rounded window frames and door openings that contribute to a modern and inviting appearance. Considering the needs of those visiting the lab, HOK designed special 'flaps' that cover the various doors while the module is in transit. It also can open to create a 'porch' that provides protection from sun or rain. Patterned film covers some windows, providing privacy for visitors during sample collection and other procedures.
"Logistics and scale are key considerations for an effective COVID-19 testing program," said Carol Houts, vice president of quality and business strategy for Germfree. "HOK and Germfree are providing laboratory solutions to meet the unique demands of larger institutions. These labs will deliver biocontainment capacity and advanced capabilities to wherever they are needed."
HOK's design ensures the efficiency of each unit while putting science on display via views into the testing area. Exterior graphics can educate visitors about the testing process and provide information about the virus and sponsoring institution.
The mobile labs will be available in mid-autumn 2020 to help organizations ramp up their people's return to campuses. HOK and Germfree are also designing two additional solutions that will provide immediate or same-day results for smaller groups.
Visit Germfree: CLICK HERE
Visit HOK: CLICK HERE