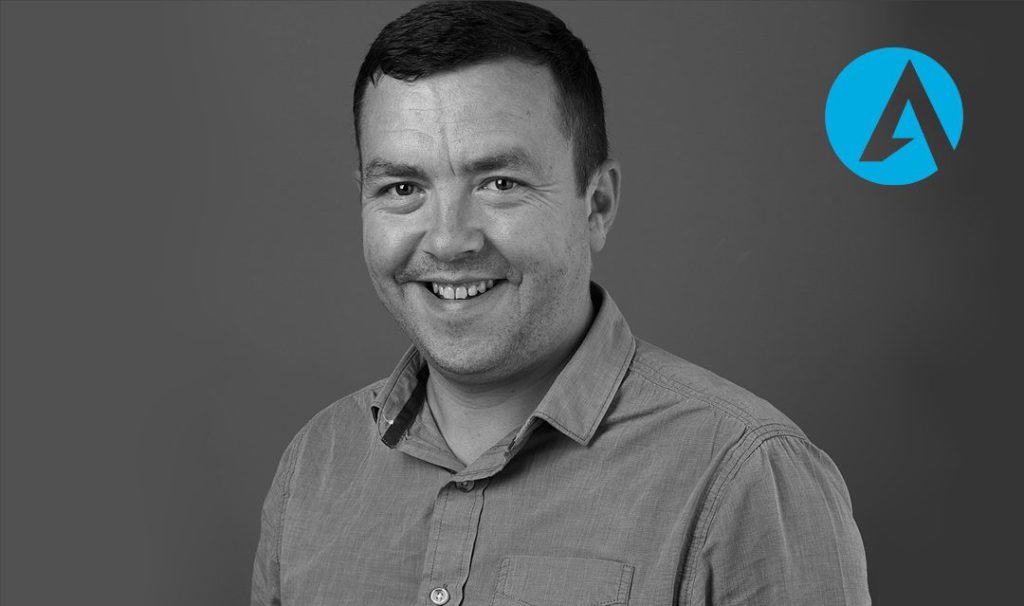 Meet Chris Fitzpatrick, our Technology and Innovation Manager. Chris has worked for Ardmac for 4 and a half years, starting off as our IT Manager and moving latterly into this role to help the business develop its digital transformation program and drive a culture of innovation.
At Ardmac, we have been on a significant journey for the past 3 years, modernising and transferring our paper-based processes onto digital platforms. Things like workflows, approvals, cost information, materials and stock information; we have empowered our sites and back-office teams with technology, systems and processes to allow them better management of that data. Of the benefits this brings, Chris said: "It brings about a greater visibility, we have a 360 view into a how our sites are performing. As all our project information is stored in a single place, information is easily accessible at all levels of the organisation."
Rome wasn't built in a day of course, and there is much more to come, but the adoption of new platforms, comes with its challenges, as Chris tells us: "At Ardmac, the culture is pretty open to change, we don't face much resistance at all to be honest, for us it's more about ensuring we understand the end users, our employees, and making sure they get access to the best training so they feel confident to use the new systems."
Ardmac have a digital training platform that enables us to do on-site and off-site training, training people consistently and delivering a consistent message. This could be training to employees, contractors or suppliers, but the Ardmac system enables us to certify people on certain subjects, by asking questions and ensuring that people have absorbed the information and that they understand it.
Chris runs a team of 4, two of those work in the IT team and two help to roll out the new platforms and systems. Typically, Chris will meet with his team every day in a stand-up meeting to review open issues, plans for the day ahead and any blockers that he or the team need to deal with. Using lean and agile tools like Kanban, Chris plans in two weekly sprints ensuring that people aren't lost on huge programmes that end up not delivering any real value.
The rest of the day is spent getting into the 'nuts & bolts' as Chris puts it, fixing issues and working on the projects themselves. Chris continues, "my job is so varied, I could be having meetings about broader strategy decisions one minute or helping to deliver a training programme to 150 employees the next. Within the team we have a huge capability."
Even with Ardmac's internal processes, Chris has developed and implemented a digital score card to help with adoption of new systems and technologies saying, "with the digital score card we are able to implement our technology and processes on each of our projects consistently. It helps us to understand exactly what kind of help we need to give our sites teams. The additional structure helps facilitate the right culture for change."
Another area of Chris' job is not just the responsive and ongoing nature of digitalisation roll out, but it is also in the exploratory, innovative nature of using it proactively to fix challenges that Ardmac has. Quite often Chris will be found meeting with various departments, working on the pain points, the challenges and establishing whether there is anything that can be done to make a process leaner by using tech. "We appoint digital & innovation champions who drive development and I coach and facilitate them," said Chris.
With advancements in technology ever growing, it's easy to get carried away and want to implement everything, just because it's there. So, the challenge for Chris is keeping his eye on technology, working with vendors, carrying out research into what other businesses use and really ensuring that Ardmac uses the right tech for the right reasons.
Speaking of the future for Ardmac, Chris says; "Ardmac are adopting a more modular manufacturing business model, so we need to have systems in place to enable it to scale. It is proving to be a really exciting time for me, looking at what tech is available and carrying out small experiments to see how it might support the business."
Getting to the crux of Chris' role it would seem he is mostly inspired by the sense of achievement he gets when people have used his strategy to implement their projects and it works really well. Seeing that impact is what keeps him motivated on the job.
Off the job, his motivations include his two daughters, 3-year-old Robin and 1 year old Kate, who keep him very busy out of hours! When he gets a chance to, Chris loves to play golf, cycle and go running and was instrumental in setting up the Ardmac golf society, which has grown to 80 members.