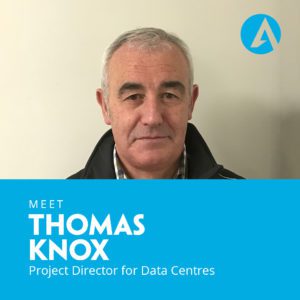 Introducing Thomas Knox, Ardmacs International Project Director for Data Centres.
Thomas has had a wide and varied career, managing the construction of large multinational companies. His experience has allowed him to live all over the world most notably in the Caribbean.
Thomas was born in Glasgow and as a young man, moved to Ayr when he was 8. He started out his working life as a carpenter, working for bar fitting companies in pubs and bars. At 28 he was 'off-the-tools' and working as a young site agent in London on the embassy buildings in Queensgate. He worked in Kensington & Chelsea for 3 years.
Leading to his involvement with Ardmac; it all began following his Electrical & Mechanical Services & Civils Infrastructure qualification. In September 1999 he was one of 8 people in the UK to pioneer the distance learning course by the CIOB. He reached Level 5 in the Chartered Institute of Building achieving chartered builder status. As the first in Scotland, and the second in the UK to pass, he was invited to the Houses of Parliament to receive his chartership and the presentation was by the Minister of trade and industry.
With his previous employer ISG, Thomas was asked to work in Finland where he started his journey in datacentres working for Google. His experiences in data centre projects led him to Holland where he first encountered Ardmac as a contractor on the project that he was managing. He enjoyed working with Ardmac and he continued to work with us closely on another project.
The rest, as they say, is history.
Thomas has most recently been working for Ardmac in Denmark on Hyperscale Data Centres, he is generally allocated the Nordic area with data centre projects and operates a 4 week rotation, 3 weeks abroad and 1 week in the UK. He has managed large teams of around 1,200 people working on Hyperscale data centre projects and his personal mantra is to adjust, adapt and overcome. He believes that this is the key to working well in his high performing teams.
For Thomas, it is his team that he loves the most. Thomas is a family man, with two grandchildren at home. His Philosophy is not only to create a workforce, he creates a family on the job too. Working away from home brings with it new challenges, and it is hugely important to him that his team is close, they look out for each other, and he places the same amount of trust in them as he gets from the directors at Ardmac.
Thomas says, "my team say I'm like their 'old dad' because I'm so protective of my people, but this is so important to me as it enables us to perform at our best."
He is currently working on a Hyperscale data centre project in Denmark which is a new design and very challenging. He continues, "I'm always thinking about ways that I can make things better for the client, in fact I love that challenge because in this industry finalising a project 'defect free' is a huge tick in the box for us, something that I take great pride in."
On a personal level, Thomas was in fact a blackbelt in Shota Kai Karate. Martial arts is something that has passed on to one of his grandsons who is soon to be the youngest blackbelt in Scotland and picked for a Scottish team to compete in an international event in Japan in 2022, which Thomas is planning to attend.
There is no end to Thomas's talents, we are very glad to have him on our side!