Ardmac over the past 45 years has grown from a small Irish operation to the leading provider of high-tech cleanrooms, data centre solutions, quality fit-outs, specialised refurbishments, and turn-key construction of manufacturing facilities across Europe.
Ardmac welcomes Gender Pay Gap Reporting; it is important for us to highlight if we have a gender pay gap and if so how the organisation plans to work on closing this gap.
This Gender Pay Gap Report is based on data as of 30th June 2022.
Gender Pay Gap legislation requires employers with 250 or more employees to publish statutory calculations every year showing the difference between the average earnings of men and women within their business.
Unlike equal pay, gender pay gap shows the difference in average pay between men and women. Equal pay requires that men and women who carry out the same or similar jobs; or work of equal value, are paid the same.
In Ardmac, we conduct pay reviews to ensure that there is consistency between positions and employees within positions; in this regard, we believe we are an equal and fair employer.
Ardmac are confident that our employees are paid fairly in terms of pay equality. We do however notice that our workforce is made up of a male majority across all levels of the business especially within our operative and senior management roles.
Our Business
Ardmac delivers high-value workspaces and technical environments in Ireland and across Europe. Headquartered in Dublin, with offices in Manchester, Craigavon, Brussels and Cork. Ardmac are supporting projects all over Ireland, the UK, Denmark, Belgium, the Netherlands and have this year announced their expansion into Finland and Germany.
Gender Balance
Male 88% Female 12%
The Figures set out below have been calculated using the standard methodologies used in the Equality Act 2010 (Gender Pay Gap Information) Regulations 2017.
At the time of reporting , (30th of June 2022), Ardmac had 332 employees on our Irish payroll, 291 Males and 41 Females.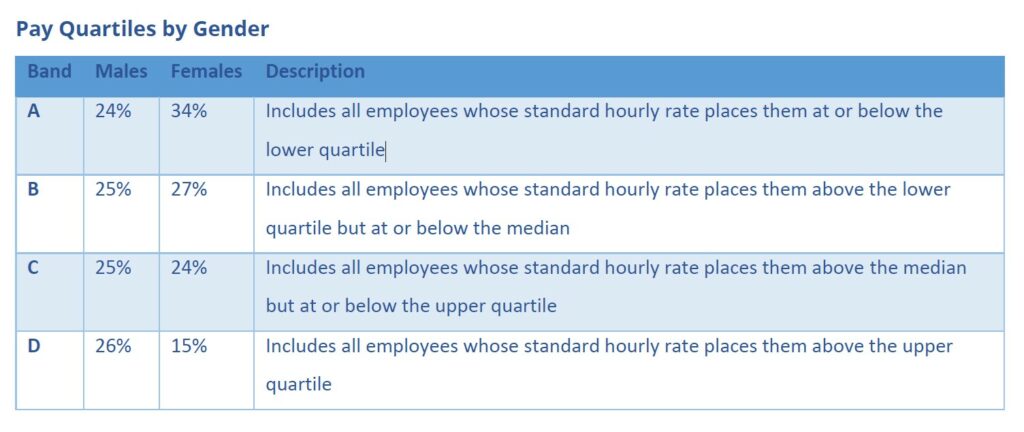 Ardmac is committed to the principle of equal opportunities and equal treatment for all employees, regardless of sex, race, religion or belief, age, marriage or civil partnership, pregnancy/maternity, sexual orientation, gender reassignment or disability.
There is a clear policy of paying employees equally for the same or equivalent work, regardless of their sex (or any other characteristic set out above).
What is Ardmac doing to address its Gender Pay Gap?
Ardmac is successful in attracting female applicants for roles in its support functions. However, the proportion of women applying for operational, technical, and senior management roles is quite low.
This is consistent with fellow construction companies across the board with CSO figures published in April 2022 demonstrating that only 9% of the construction workforce are women.  A significant amount of good work has been undertaken over the past few years by organisations such as the CIF and Engineers Ireland to promote the industry as inclusive and diverse, but the sector remains one of the most gender-segregated in the world.
The reason for this appears to be down to the perception of the industry.
Key factors encouraging men into the industry include culture, representation, confidence and opportunity and we need to establish these more strongly for women.
Ardmac is fully committed to promoting gender diversity in all areas of its workforce including the following:
Promoting Ardmac and the construction and engineering industry in general, as an attractive career path regardless of gender at various educational establishments and job fairs.     In 2022, Ardmac made a presentation to approximately 100 female transition year students to encourage them to consider the option of construction and engineering as a career.
Ardmac encourage females to apply for open positions through engagement with local colleges and universities.
Ensuring recruitment campaigns are described and advertised in such a way as to attract a diverse group of applicants. Since 2018, 25% of employees hired at Ardmac were female.
From a young age, men see family members, contacts and connections working in the industry. It has been the norm in society for generations of men to see construction as a viable long-term career. Males also benefit from being offered subjects at school which provide insights into the work involved and building confidence in their abilities to do the work and find it rewarding. Career offices promote engineering to young men, meaning key elements of the funnel channelling young men into the industry exist as standard, this needs to be the same for young women.
Ardmac will ensure that we are conveying the right message to women in promoting opportunities. Ardmac will focus on recruitment campaigns that present the vision of the industry and its impact on people and their quality of life.
Employees at Ardmac are lucky to experience this on an on-going basis as we contribute to the delivery of exciting and innovative projects in the life sciences sector, from mobile micro-vaccine production facilities to large scale drug manufacturing facilities.  A career in the construction industry can take employees all over the world and present them with the opportunity to be involved in hugely rewarding projects where, regardless of demographics, they can make a significant contribution to the project and society itself.
Conclusion
Ardmac are continuing to broaden the relationships we have with existing universities, colleges, and schools, whilst approaching a new array of educational establishments. Ardmac have amended policies to ensure we are inclusive and reflecting on the changing world.
The assistance of Government backed schemes to promote construction as a career for young women at education stage will also allow women to study subjects which are relevant to the construction sector.
We at Ardmac understand that this is not something that we can fix overnight but will continue to develop and work on ways to attract women to our organisation and work to develop their careers with us.