Safety First – That's Our Motto
At Ardmac, safety is at the forefront of everything we do. Our number one guiding principle is Safety First. We continually strive to ensure that safety as a value is embedded among all employees, both in the workplace and at home. This takes place at all levels of the Ardmac organisation from CEO to the shop floor. Our goal is to achieve zero incidents and injuries in all our workplaces.
To maintain this safety culture, we take a participatory approach. Our Safety-First Programme is management focused and is designed to improve ownership and leadership among our people. It encourages our staff to re-think the way that we manage and behave towards working safely.
There are four cornerstones to this programme, Task Planning and Training, Engagement and Participation, Co-ordination and management and Ownership, Leadership and commitment.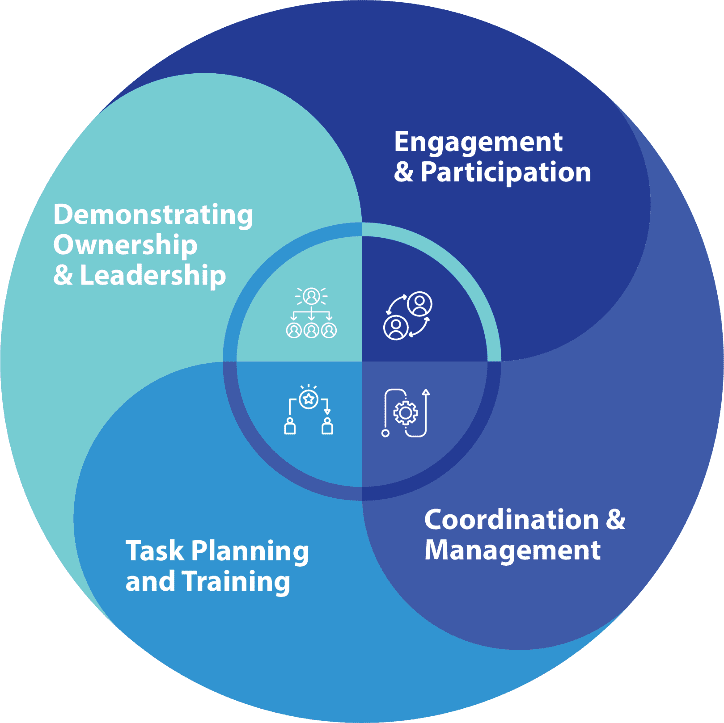 Our Safety-First Conversations create an open dialogue around safety. These conversations are in addition to our toolbox talks and safety meetings. These talks allow our teams to openly discuss and be aware of safety on site. All Ardmac staff and management continually attend safety workshops and training programmes. These help to achieve a culture of collaboration and trust.
At Ardmac, we adapt our safety communications to seasonal activity. Our Seasons of Safety programme allows us to communicate our message in a way that is easily applicable to those who are working with us. We cover the different issues that may arise with the changing seasons, the impact of dark days in Autumn, the affect Winter may have on mental health and the importance of sunshine protection in Summer and Spring.
These programmes and communications work together to foster belief, ownership, and leadership in safety. The lessons learned enable our staff to create a healthy and safe working environment. It is a testament to our shared safety culture that Ardmac have recently achieved a milestone of over 7.4 Million person hours without a Reportable injury.
Our commitment to striving to achieve excellence in Health Safety and Wellbeing has been recognised. We have achieved the RoSPA Order of Distinction for outstanding performance in Occupational Health and Safety, representing 20 years of Gold award achievement.
Aside from the physical risks and on-site threats, we are also very aware of the dangers we can't see. We place a huge focus on Depression, Anxiety, Stress and Suicidal Thoughts. We recognise these are just as dangerous as the tangible on-site hazards.
Over the past number of years there has been an increasing number of employees in the construction industry suffering from mental health issues. A 2020 study found that 83% of construction workers have experienced a mental health issue. Mental health issues are indiscriminatory and affect people in all roles. We place huge focus on regulations and on-site safety, but mental health needs to be prioritised just as highly as wearing a hard hat or protective goggles.
That's why this year, Ardmac have chosen their 3 charity partners with a focus on mental health; Pieta House, Manchester Mind and The Lighthouse Construction Industry Charity. Ardmac is aiming to help tackle this issue by increasing awareness of the mental health issues within the construction industry, providing the support and resources for our staff, and raising vital funds for our charity partners.
By continually discussing and educating our employees about safety we believe that we can eliminate injuries and enhance people's lives. Open conversations around safety help to embed positive attitudes and beliefs to safety. Enabling our staff to think and about safety positively and in a different way.