Ardmac's Managing Director Jason Casey was featured in Irish Building Magazine alongside industry leaders to discuss working together to mitigate recent and established challenges of the industry. Speaking of the challenges we have faced with Covid-19, Brexit and the war in Ukraine, Jason also discussed what makes Ardmac saying "Our people are our greatest asset, and ensuring we have meaningful interaction with them is key to our success". With all the challenges we are currently facing, the shortage of personnel is one of them. In the article, Jason explains how Ardmac have changed the language we use to create better communication and a more diverse and inclusive work force.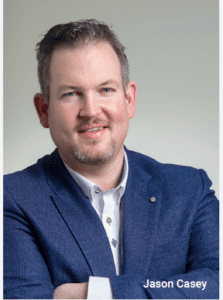 "A focus on vertical integration including having our own direct labour with developed specialist skills certainly helps mitigate resource challenges in the field"
In the 45 years since its inception, Ardmac has earned itself a reputation not just for delivering results but for exceeding client expectations. This has not gone unnoticed; what was once a small Irish operation is now the leading provider of high-tech cleanrooms, data centre solutions, fit-outs, specialised refurbishments, and turn-key manufacturing facilities across Europe. Group turnover within Ireland alone last year was €75m, while overall turnover was closer to €135m.
The past 12-18 months have seen Ardmac complete a whole range of significant projects across Ireland, the UK and Europe; these included a 15,000 sq.m. cleanroom facility for Wuxi Biologics in Dundalk, a large microelectronic project in Kildare, several Data Centre projects in Europe and several high-end commercial fit-outs in Ireland and the UK. Key recent wins have included large Pharma facilities in Limerick, Cork and Finland, Data Centre projects in Denmark, Germany and Austria, and Battery facilities in the UK.
Modular construction is fast becoming a key part of the Group's activity; having already delivered several such projects across Europe, its first modular project in Africa is on track to be delivered by the end of 2022. So far this year the company has been working on several large campus sites, securing further phases.
"Overall our strategy has been to follow and support our clients, and we tend to access one or two new locations every year," explains Ardmac Managing Director, Jason Casey. "Apart from our more established locations, we are also pursuing work in new areas such as the Nordics, Spain and Portugal."
As part of its strategy for the future, Ardmac has now welcomed Cental – a leading and fast-growth provider of advanced modular infrastructure to the data centre, pharma, utilities and telecoms industries – to the Group. Cental's manufacturing capability will support Ardmac's ongoing agreement with US-based Germfree Laboratories, to provide prefabricated turnkey modular cleanrooms and biosafety laboratories to the biopharma and healthcare sectors throughout Europe. It will provide a manufacturing base for all other Ardmac modular solutions under one roof. In tandem with the evolution of its business and the development of its senior leadership team, the firm has also recently made some strategic assignments. Jason is now Managing Director for operations covering Ardmac's Pharma, Data Centre and Battery business units across Ireland, the UK and Europe, while Enda Murphy is Managing Director of its Modular, Med Tech and Micro-electronic business units, while also taking a lead pre-con role in Pharma and Battery. Ian Madden is now strategic lead for off-site construction, Karen O'Hara is Head of Sales and Marketing and Hugh Ward also joined the business recently as Director of Interiors.
CHALLENGES
Ardmac is facing the same challenges as the rest of the industry in the form of Covid fallout, Brexit and the war in the Ukraine.
"Fluctuation in material costs and availability, as well as market pressure on resources, are significant," says Jason. "However, we have had challenges like these before; our experience and approach during these times has been our strength, and we have built our resilience further through developing our processes and practices. A focus on vertical integration including having our own direct labour with developed specialist skills certainly helps mitigate resource challenges in the field."
Funding construction projects, meanwhile, "hasn't changed in generations," he says, with a significant proportion of project funding risk sitting with the contractors.
"Project retention is a mechanism that has operated in the sector for many years, and is a significant financial cost for contractors.There are solutions out there, such as retention bonds, but the industry needs to embrace these and remove some of the funding pressures for contractors in what is already a relatively low-margin industry."
TECHNOLOGY, LEAN AND BIM
Ardmac implements the latest proven technology to improve processes and add value for customers, improve efficiencies and solve industry-specific problems. Its Digital Construction Team is at the forefront of innovation, constantly exploring how the latest tools, software applications and hardware can be deployed to support and enhance the work of its project and field teams.
"We have been using Lean since 2015, BIM for over 10 years, and we have been using our field management platform Procore since 2018," says Jason. "There are tangible benefits to adopting any of these, but when we combine features of all three, we call it Building Smart. By using all three in tandem, we are observing even greater benefits than we would if we used any of these alone. All our information is cloud based and accessible on any web-enabled device."
"Our people are our greatest asset, and ensuring we have meaningful interaction with them is key to our success."
Its Building Smart programme is resulting in greater efficiencies across the business and providing it with crucial real-time data for decision making.
"Using BIM and other technology greatly improves our abilities to design and quantify our components to maximise the benefits of offsite construction," says Jason. "This moves work from the building site to a controlled manufacturing environment, which has benefits for both safety and quality while also improving programme certainty."
SUSTAINABILITY
Fully committed to ethically and responsibly managing all aspects of its operations, Ardmac firmly subscribes to the idea that when it succeeds, so does its staff, community and society in general.
"By encouraging wellbeing, giving back to our community and working in sustainable ways, we not only improve people's lives but also our business," says Jason.
Its Sky Blue program is the CSR framework that guides its responsible business approach, and outlines its sustainability commitments. For example, Ardmac has adopted the UN Sustainable Development Goals model for the development of its sustainability policy, which is ably spearheaded by its sustainability team.
Among other achievements, some 99.5%
of the firm's waste is diverted from landfill, its offices are fully powered by renewable energy, and it monitors and reports its Scope 1 and 2 emissions. It is also implementing further initiatives to measure and minimise Scope 3 emissions, i.e. those arising from the materials it purchases and uses.
CORPORATE CULTURE
With almost 500 direct staff, it employs many more through its supply chain. "Empowering all those employed across our business has been key to our success," says Jason. Safety is our number one value at Ardmac – "for everyone around us, in everything we do and wherever we impact." Its Safety First management programme is based on the demonstration of respect through the establishment of safe workplaces and practices.
"Ardmac Safety programmes take a holistic approach to ensuring the physical safety of all and include mental health and wellbeing programmes at all our workplaces," says Jason.
In recent months it has held a moot court in various locations as well as doing theatre at work and management safety workshops, not to mention launching its annual Cycle for Hope event.
SKILLS
According to Jason, alongside global supply chain issues, the shortage of personnel is the greatest challenge facing the construction industry in Ireland and overseas.
Diversity and inclusion is part of the solution, he says. "We need to understand that representation and communication plays a key part in young people choosing a career. For too long construction has limited its pool of recruits through poor understanding of the opportunities in the industry. Construction workers of the future must be engaged with early so they can see what career paths are available."
For its part, Ardmac has improved the language it uses to describe roles, reviewed the placement of opportunities and ensured its communications and careers information is as diverse and inclusive as possible. It has also developed a campaign to target key sectors of the community that are underrepresented in construction.
As to his key takeaways from 2021 (apart from "coming off mute!" that is), Jason says the main one has been an appreciation of the value of physical interaction with clients and teams.
"While we have seen efficiency in the use of technology to aid communication, being in the room with people is the key to building relationships and developing teams. Our people are our greatest asset, and ensuring we have meaningful interaction with them is key to our success."