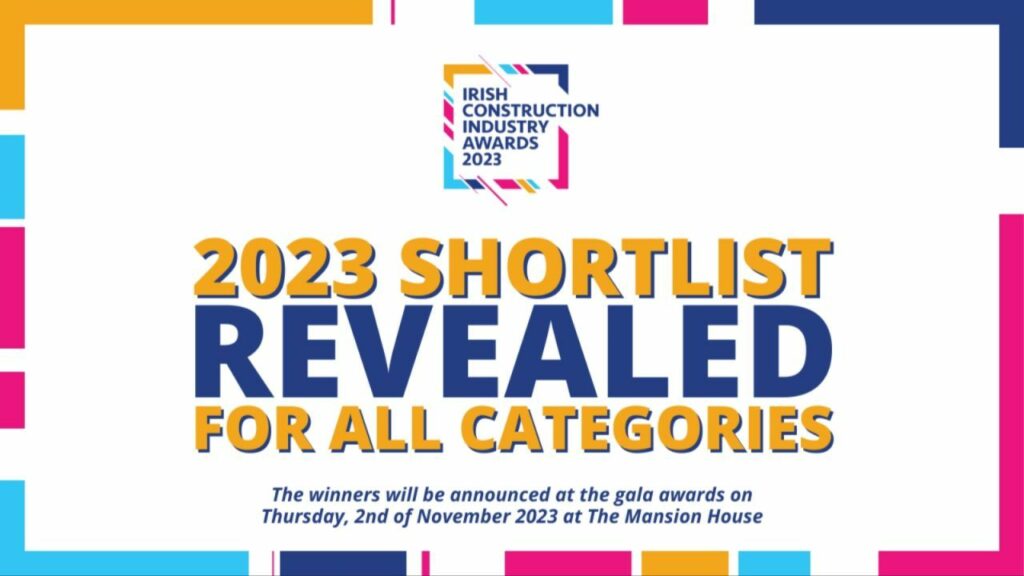 We are delighted to be shortlisted for 6 awards at this years ICIA awards!
BIM Initiative of the Year
Contractor of the Year (Large)
Excellence in Health and Safety
Innovation in Construction
Excellence in Sustainability
Women in Construction – Justine Geminiani
BIM
In the past year, Ardmac has dedicated significant efforts to planning and implementing a comprehensive five-year BIM roadmap across the group. With a strong focus on automating processes and enhancing information management, the company has diligently reviewed its workflows to identify areas for improvement.
Ardmac's exemplary utilisation of Autodesk Construction Cloud as the standard platform for delivering BIM projects and conducting clash detection is deserving of recognition. This forward-thinking approach demonstrates Ardmac's unwavering commitment to leveraging cutting-edge BIM technology to its fullest potential. As the field of BIM continues to evolve, Ardmac's embedding of ACC showcases their willingness to adapt and push boundaries, even if it means departing from long-established workflows that have served us well for years.
Contractor of the Year
Our vision is to be the 'contractor of choice for clients and the workplace of choice for great people'. Since our inception in 1977, we have grown from a small operation to an international company that delivers high-value workspaces and technical environments in Ireland, the UK, across mainland Europe and internationally.
Headquartered in Dublin, with offices in Manchester, Craigavon, Cork, Brussels and Switzerland, we employ over 500 people (staff and labour). Ardmac supports projects all over Ireland, the UK, Denmark, Belgium, the Netherlands, Germany, Austria, Switzerland, Finland, and recently in Rwanda, Africa.
Excellence in Health and Safety
At Ardmac Safety First is our number one guiding principle.
All Ardmac staff attend workshops and training programmes to foster belief, ownership and leadership in our Safety-First Programme.
Our Safety-First Programme is an integral part of daily life in Ardmac. Senior management and all Ardmac staff are committed to developing this initiative into the future, with involvement from clients and our entire supply chain and to training craft workers on our sites as "Champions of Safety".
At Ardmac, the goal is a zero-incident workplace, which we firmly believe is achievable. Working towards this objective includes creating goals with a short- and long-term impact.
Ardmac developed plans for short term goals with focus on accountability and responsibility for individuals and colleagues, whether on site or in our offices, home or abroad.
Innovation Modular clean-room for vaccine production in Africa
Ardmac were proud to be involved with a recent pharmaceutical project for a global client, which saw modular cleanrooms flown to Africa to be later assembled to form the first mRNA vaccine plant in the region. A large cargo aircraft was used to fly the cleanroom containers directly to the destination airport. This was a significant commitment by the client and a major milestone in demonstrating Ardmac's overall capability.
Sustainability
We are proud of our environmental, social & governance (ESG) programme – SkyBlue. We operate and maintain certified ISO 14001: 2018 (Environmental) and ISO 50001:2018 (Energy) Management Systems accredited by Intertek and Certification Europe respectively, and are externally rated by Ecovadis, from whom we have received a Silver Medal Rating, and are in the process of our initial assessment by the Carbon Disclosure Project.
Women in Construction
Justine Geminiani holds a pivotal role in Ardmac as our Pre-Construction Lead in Engineering. Justine brings together all elements of a project and aligns the project team under a shared strategy with project goals and objectives. Justine delivers cost and programme certainty, for the client, Ardmac and all stakeholders. Justine is someone who strives to deliver quality in everything she does and is someone who continuously helps to drive the standards across the whole team.
Thank you to all at the ICIA, we look forward to the awards ceremony in November