What is a cleanroom?
A cleanroom is a controlled environment where provisions are made to reduce particulate contamination (along with other environmental parameters such as temperature, humidity, and pressure) to levels appropriate for accomplishing contamination-sensitive activities.
A cleanroom environment is typically specified in industries such as aerospace, microelectronics, optics, nuclear and life sciences (pharmaceuticals, medical devices, food and healthcare).
ISO Standards determine the controlled level of contamination based on the number of particles per cubic meter at a specified particle size.
An ISO Level 3 cleanroom, or Class 1 cleanroom, contains the least number of particles per cubic meter and the smallest specified particle size going down to 0.1 micron. At ISO Level 9, the environment is equivalent to normal room air with no control over the particle count or size.
The table below shows the various ISO levels and their corresponding cleanroom classification.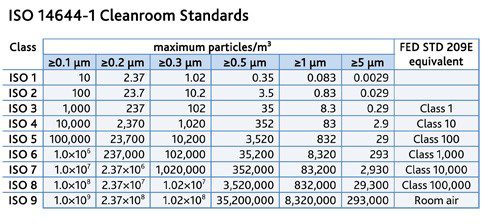 What are the benefits of a cleanroom?
Cleanrooms provide organisations with a number of key benefits, firstly zero contamination. Controlling the entire environment where sensitive processes are carried out is the only way that contamination can be eliminated. Secondly, a cleanroom provides the right environment to meet the highest manufacturing standards and facilitating the needs of various industries.
The most notable benefit, however, is that a cleanroom ensures compliance with strict industry or governmental regulations. Often this is the key driving factor behind specification of cleanrooms and cleanroom equipment.
Establishing your cleanroom requirements
If you have requirements for a cleanroom, early engagement with your supply chain is the key to establishing the best environment for your manufacturing process. Speaking to a cleanroom specialist early will ensure alignment on the understanding of your needs, environmental compliance and regulatory requirements.
This enables you to collaborate with design resources and commercial teams to develop your scope, progress the design, evaluate risks and develop a cost plan and construction strategy.
 What makes a cleanroom 'clean'?
A key part of a cleanroom is the air filter that is used to trap particles and enable the circulation of clean air within the room.
There are two main filter types used within a cleanroom; High Efficiency Particulate Air (HEPA) filters, which should remove particles 0.3µm in diameter and above and Ultra Low Particulate Air (ULPA) filters, which should remove particles as small as 0.1µm in diameter.
Other factors that affect the cleanliness within a cleanroom are the things that are introduced into the environment. For example, process equipment or personnel. Each introduction must be carefully considered, and risk managed from a point of view of becoming a potential source of contamination.
Personnel undertake extensive training in the protective measures that are determined for each controlled area. This may vary depending on the level of contamination permissible. This could include things like airlock entry and exit protocols, air showers and specialist personal protective equipment designed to trap contaminants that come from the body.
The higher the classification of cleanroom, the more restrictions you have in place to ensure adequate control of contamination.
Clean air technology
Alongside the use of HEPA or ULPA filters, cleanrooms maintain clean air through the use of air flow principles. Using unidirectional air flow systems to direct filtered air downwards in a constant stream or turbulent flow principles which, as the name suggests, offers multi directional air flow.
By managing the air flow within the cleanroom in this way, it is possible to move particles away from the operator and operating area towards the filters positioned in either the ceiling or the walls of the cleanroom. The particles are then captured in the filters and clean air is recirculated into the cleanroom.
The diagram below shows the air movement within a cleanroom.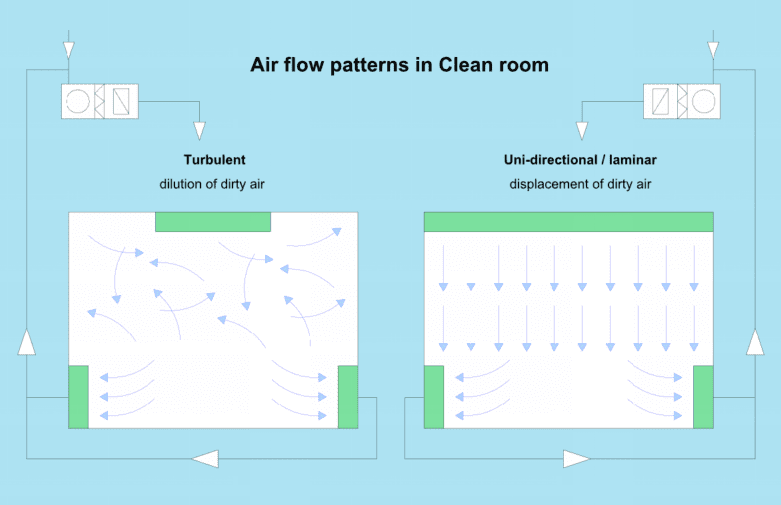 Ardmac prides itself in a proven in-house technical ability to take a client brief and develop a concept for the front-end design of a cleanroom facility. To speak to a member of our team for further help or advice, call us on +353 (0) 1 894 8800.